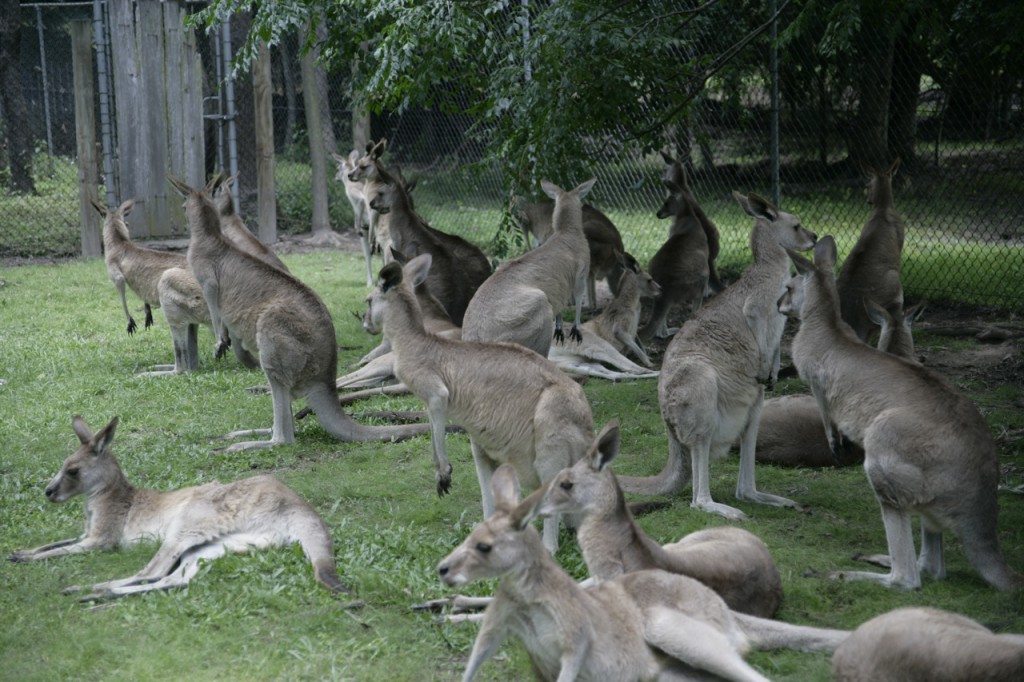 Last week, we took a trip to the Lone Pine Koala Sanctuary just outside of Brisbane. Along with Koalas, the LPS has a variety of other animals, reptiles and birds that are native to Australia. I was super excited to go because their website promised 1) you could hold a koala; 2) you could feed the kangaroos; and 3) there would be dingo puppies! Well, they didn't exactly deliver on #3, because the puppies were a bit older and lazier and not so cute by the time we showed up, but everything else was pretty great 🙂
Now, I have never been at a zoo or any other public animal venue with Matt before. And, while I know that he loves animals and nature, it is an entirely more interesting thing to watch him interact with them. When we talked about going to the LPS, I did not anticipate that so much of my enjoyment of the day would come from watching MATT and not just the LPS residents themselves…
Although the LPS is mostly about the koalas, our day was mostly about Matt and the birds!  At our first stop, Matt carried on a garbled conversation with a quirky cockatoo.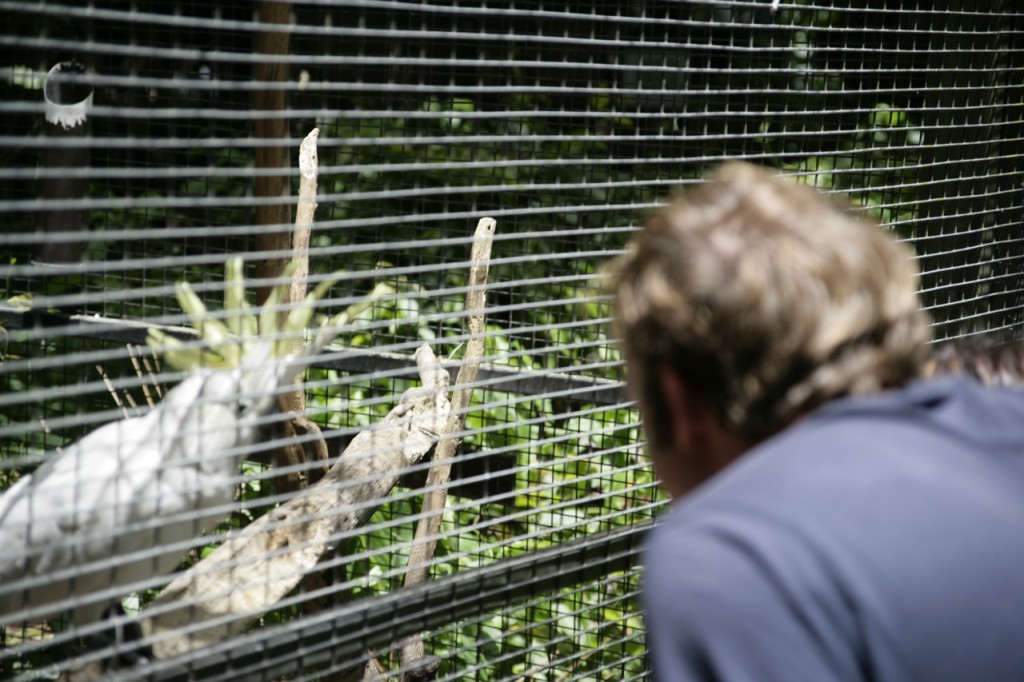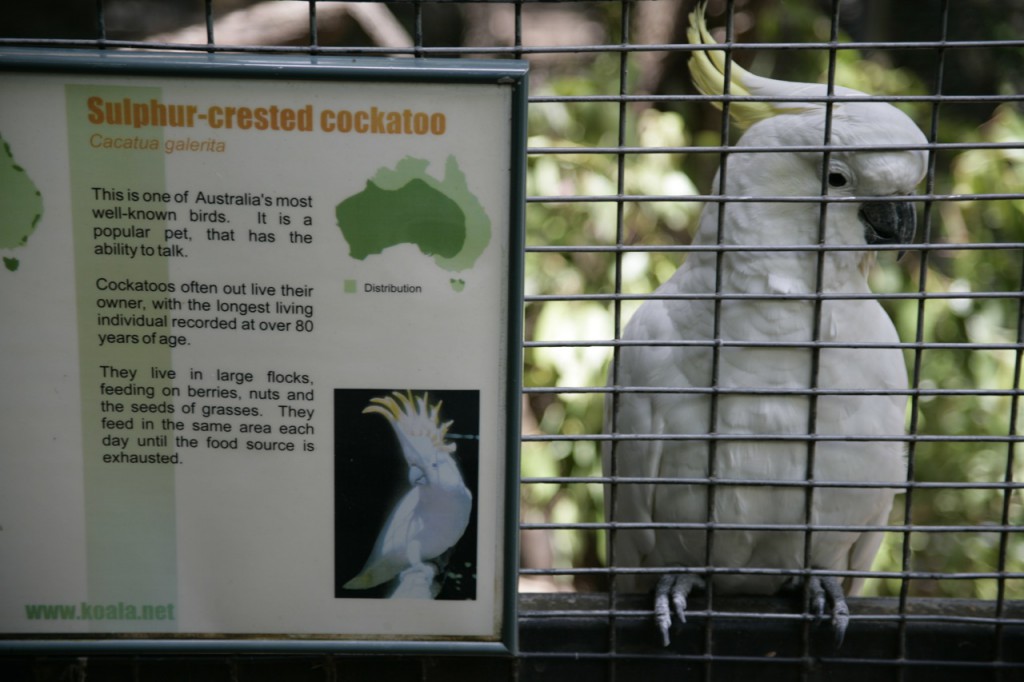 Next we checked out some bats and a platypus (which was MUCH smaller than I'd thought it would be!) and as we left the platypus building, a peacock crossed our path.  It saw me and though, "hey, she's HOT!" and then saw Matt and realized there was competition and within seconds, BOOM, out came the brilliance.  I looked at Matt, looked at the peacock, looked at Matt, watched the peacock turn slowly around in all its glory, and then remembered the ring on my finger.  *sigh*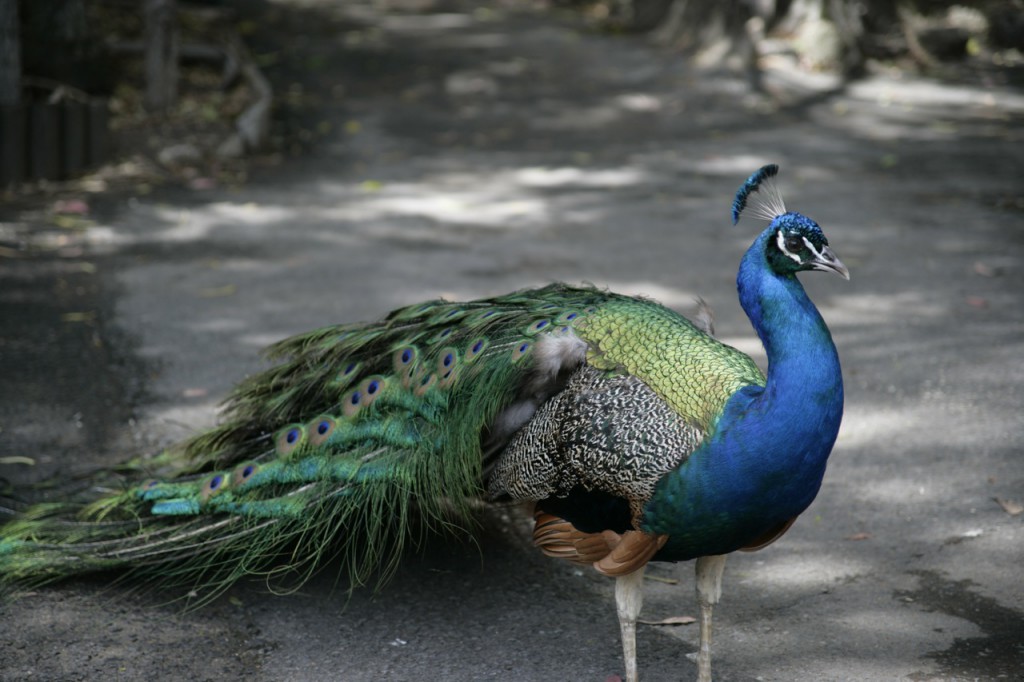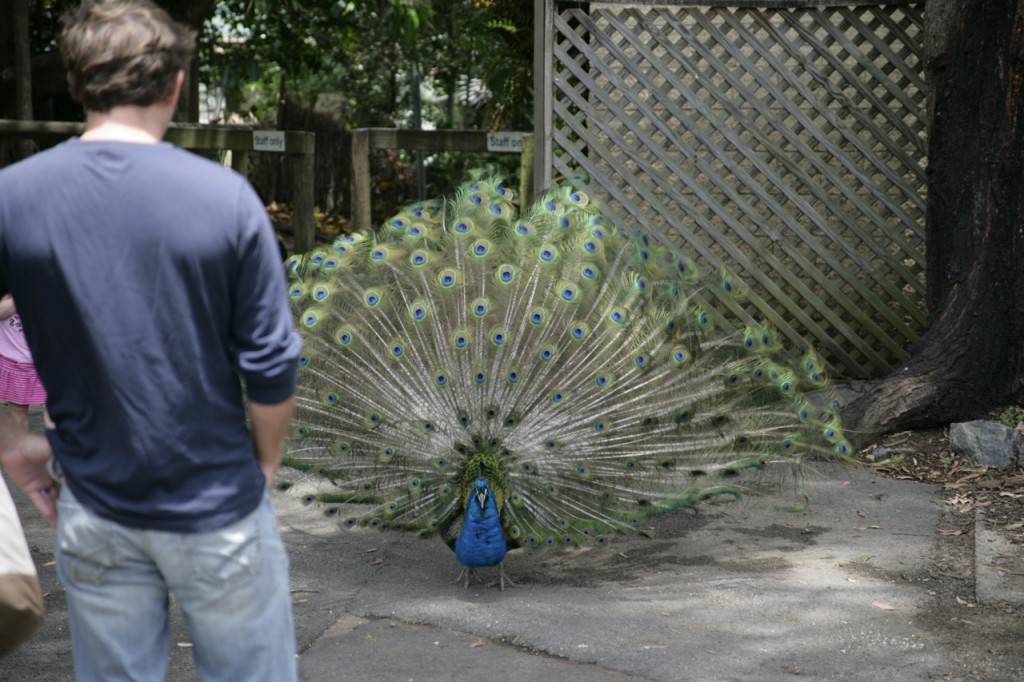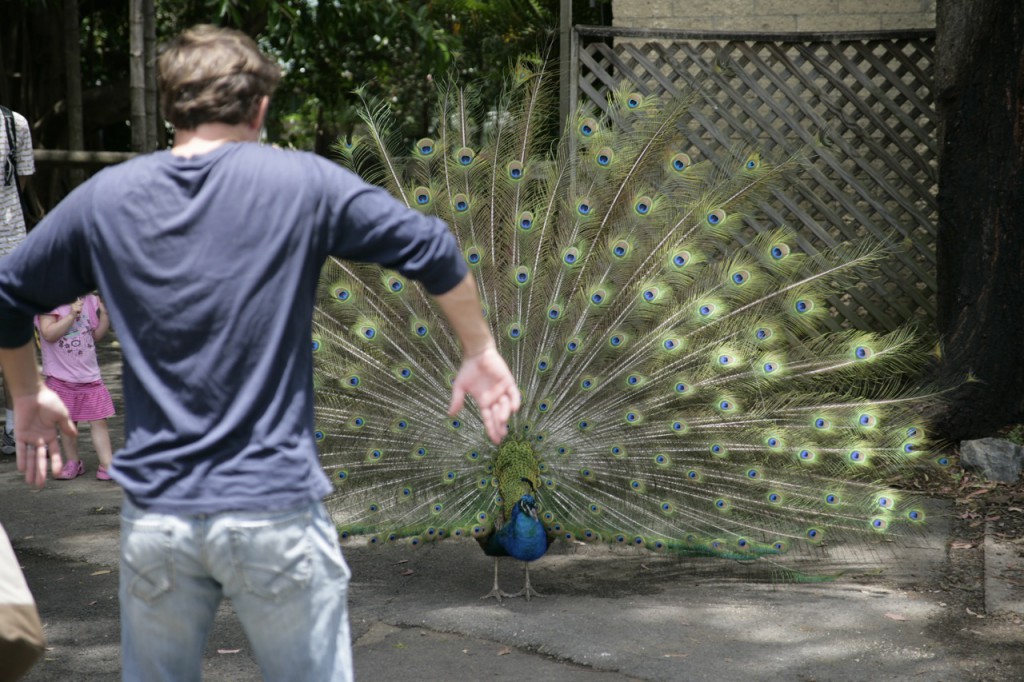 After we left the peacock, we were wandering around looking at some other birds and this Australian bush hen took one look at Matt and started shrieking!!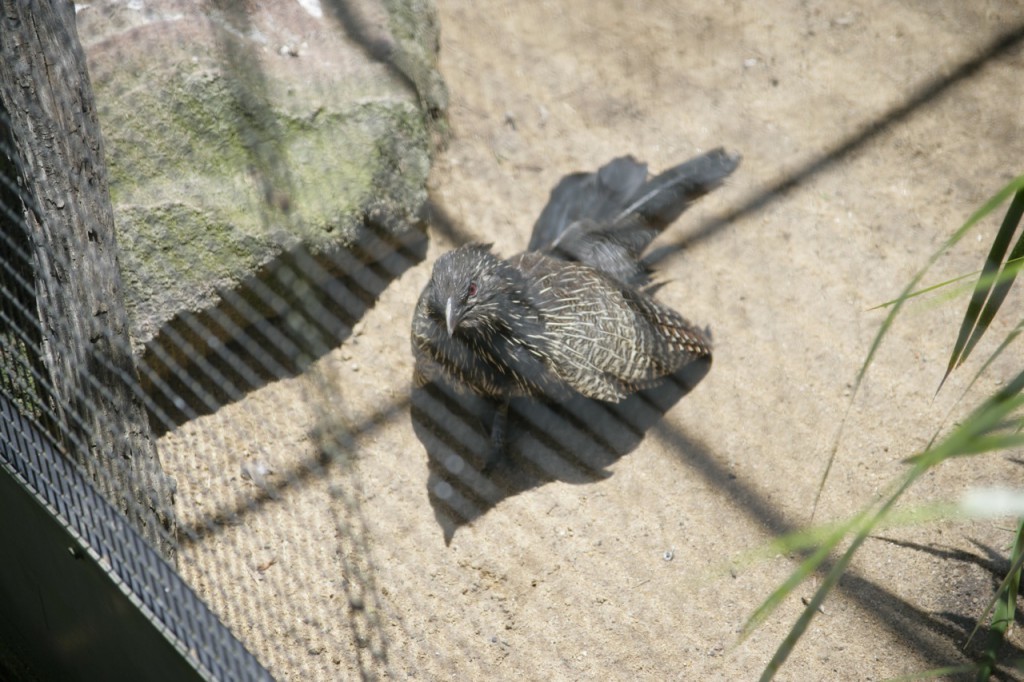 But, this cool dude wasn't very impressed…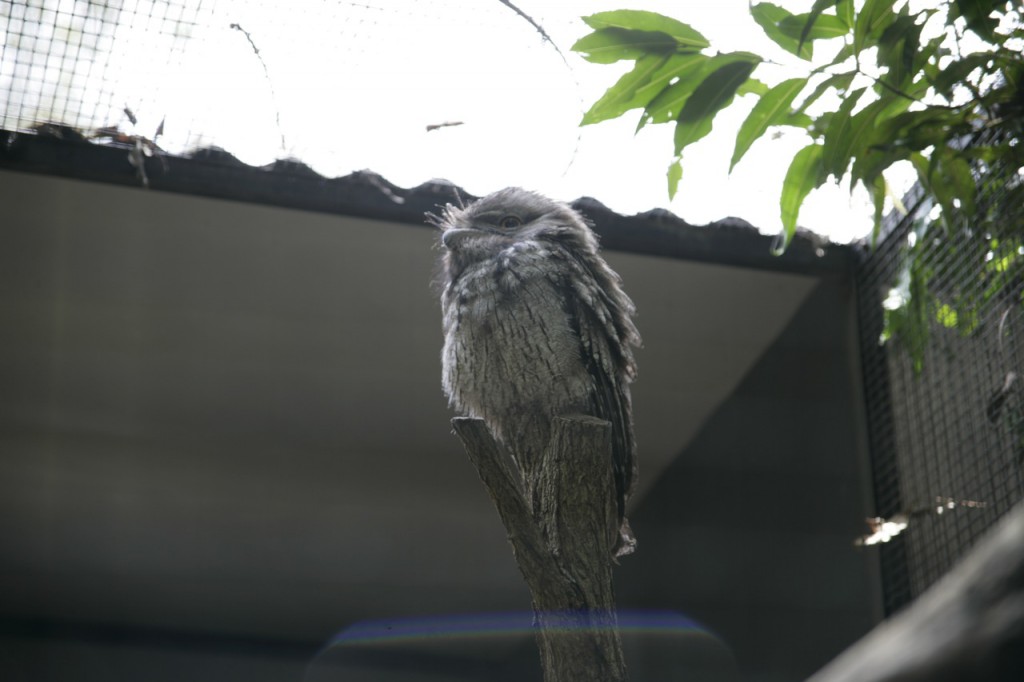 And then, of course, there were the stars of the show – the koalas!  Later we asked a cruiser kid what he thought of the koalas and he said, "I mean, they're cute, but they don't really do anything.  They're kind of boring."  And, that pretty much sums them up! 🙂    They are ridiculously cute, but they move maybe once an hour unless it's feeding time and then they'll spontaneously jump from branch to branch or crawl across the branches to get to that one special Eucalyptus leaf and that's a big day.  They spend something like 80% of their lives sleeping or "resting" and when they do those things, they literally shove their butts into the "v" of a branch and then just lean forward and sprawl on the branch – legs sticking out, arms over their heads, however they end up, they'll stay that way, unmoving, for hours.  More so than cute, I found them endearing.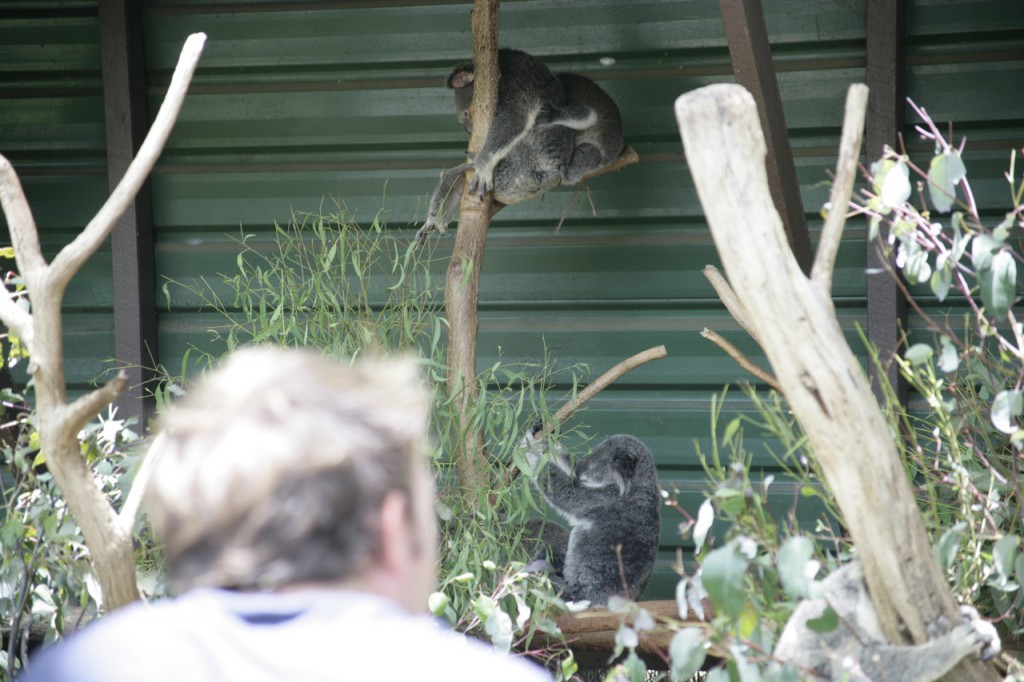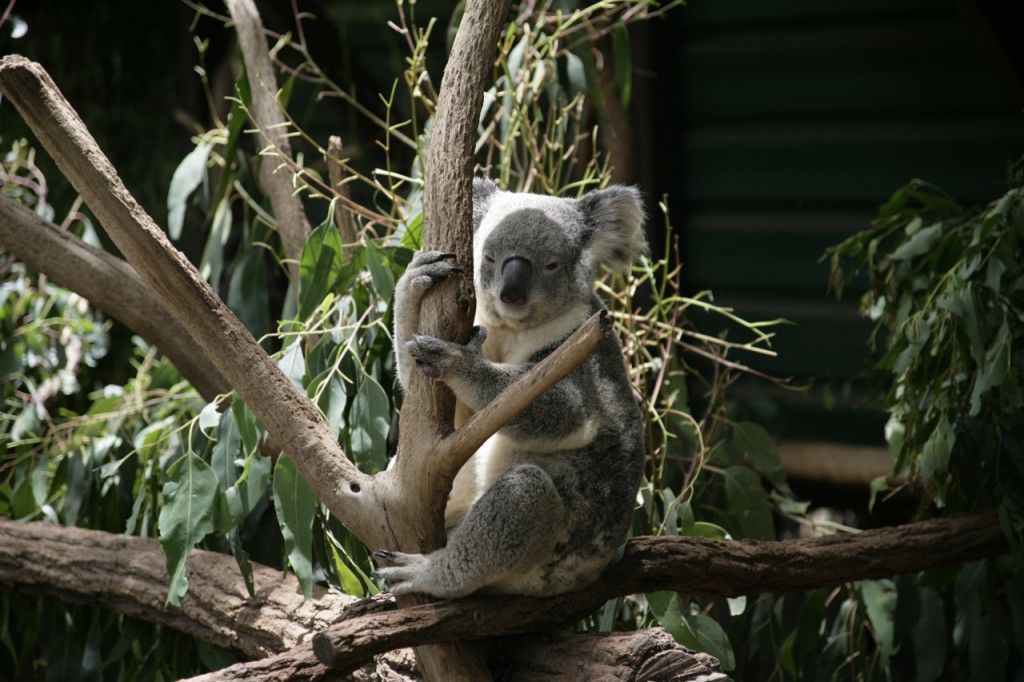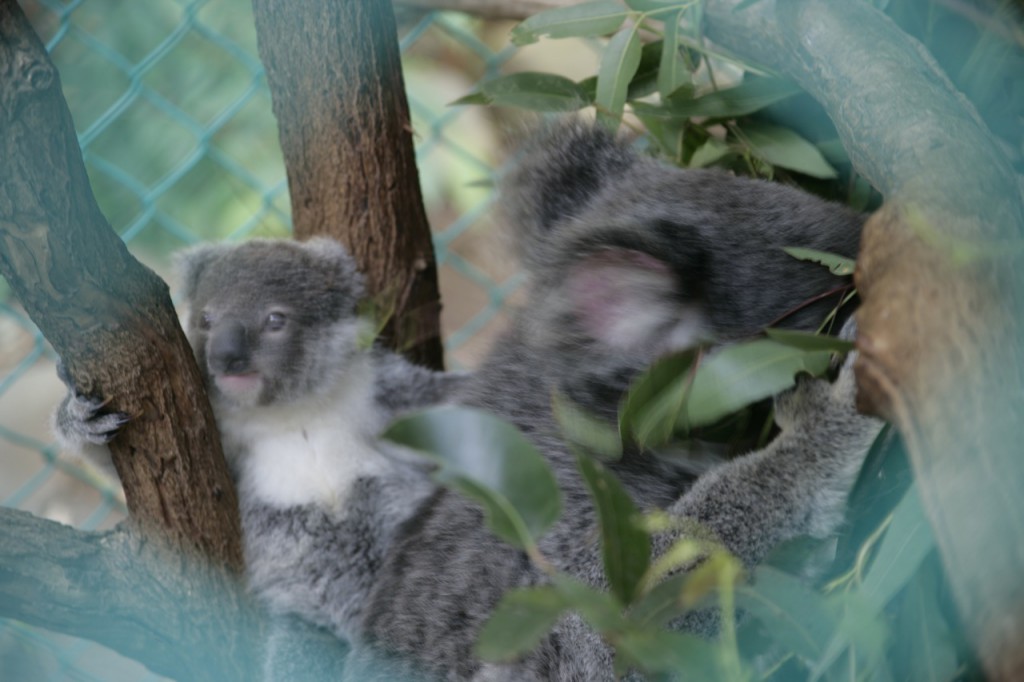 Apparently the emu is also native to Australia and while Matt was brave enough to poke at it, make fun of it, and attempt to challenge it, none of us were brave enough to pet it.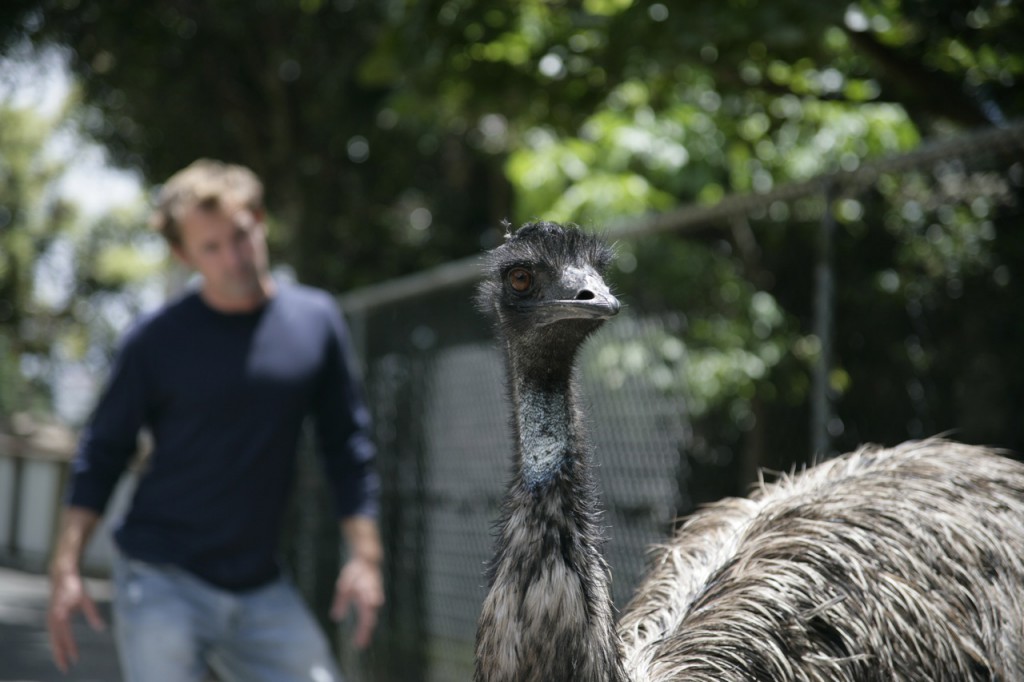 A visit to Oz would NOT be complete without seeing the kangaroos!!!  And, wow, there were a lot of them! There were only one of two here and there bouncing around the lawn, the rest were lounging under the trees, looking as docile and sweet as deer, while we all ogled them and shoved handfuls of "Roo food" under their snouts.  At one point, a bird flew off or something startled and suddenly, just like that, all the kangaroos leapt to their feet and were poised for action. We all freaked out.  Standing there, surrounded by a bunch of large, strong kangaroos… their tails are wickedly huge and thick and just look powerful.  And they have fairly large toenail/claws on their feet that could do some nasty damage to ya.  So, yeah, we all froze and just stared at them, waiting for the boxing show-down to begin, but they relaxed and laid back down, acting like nothing had happened.  There was a collective sigh of relief.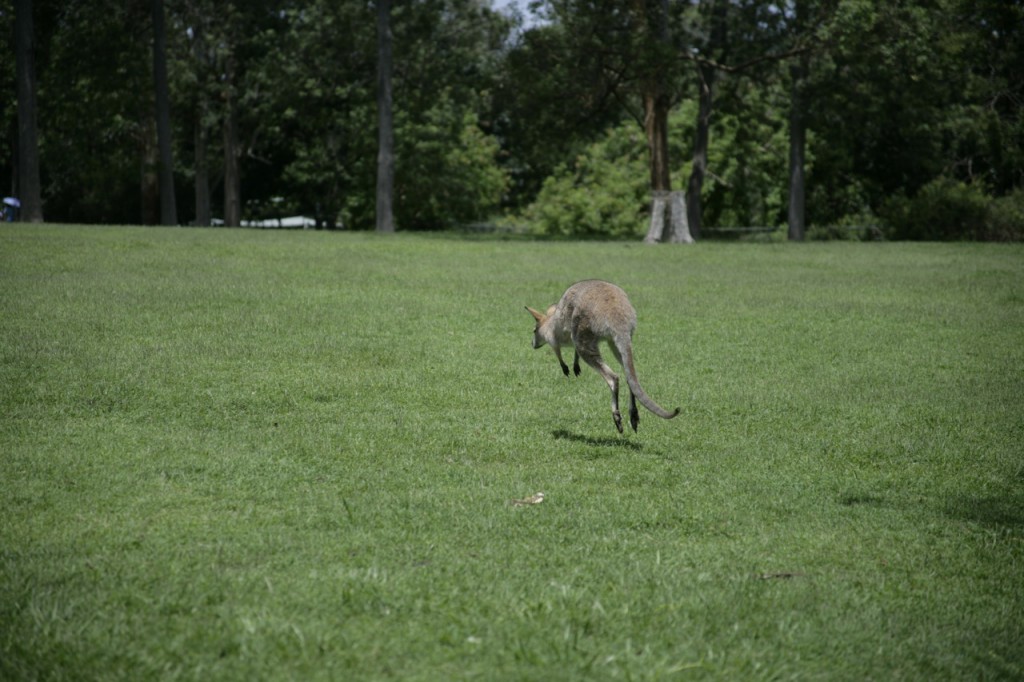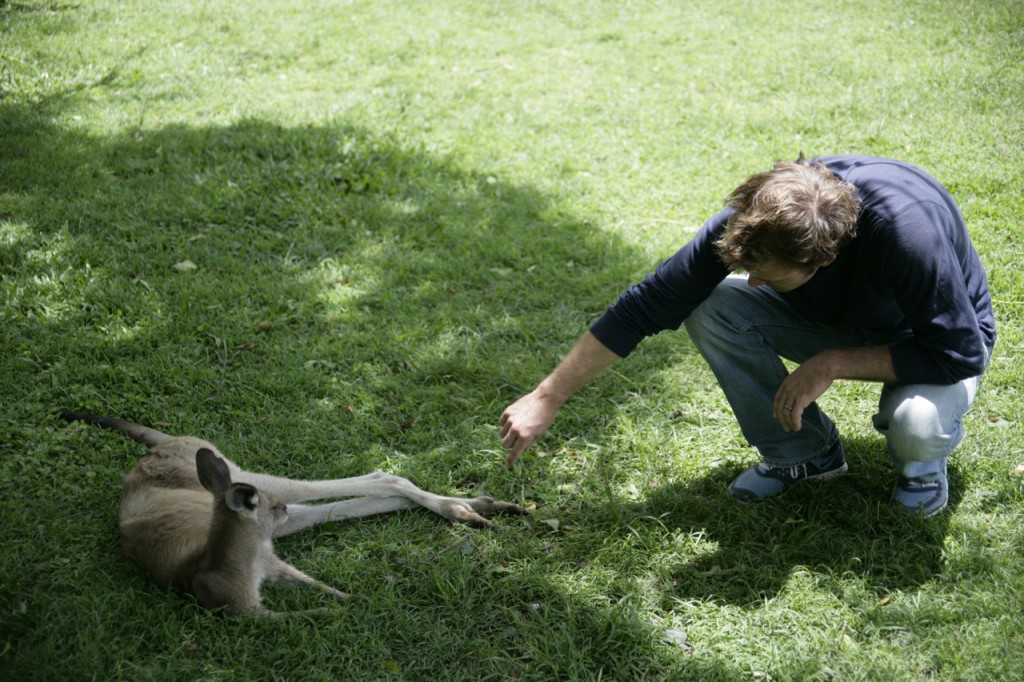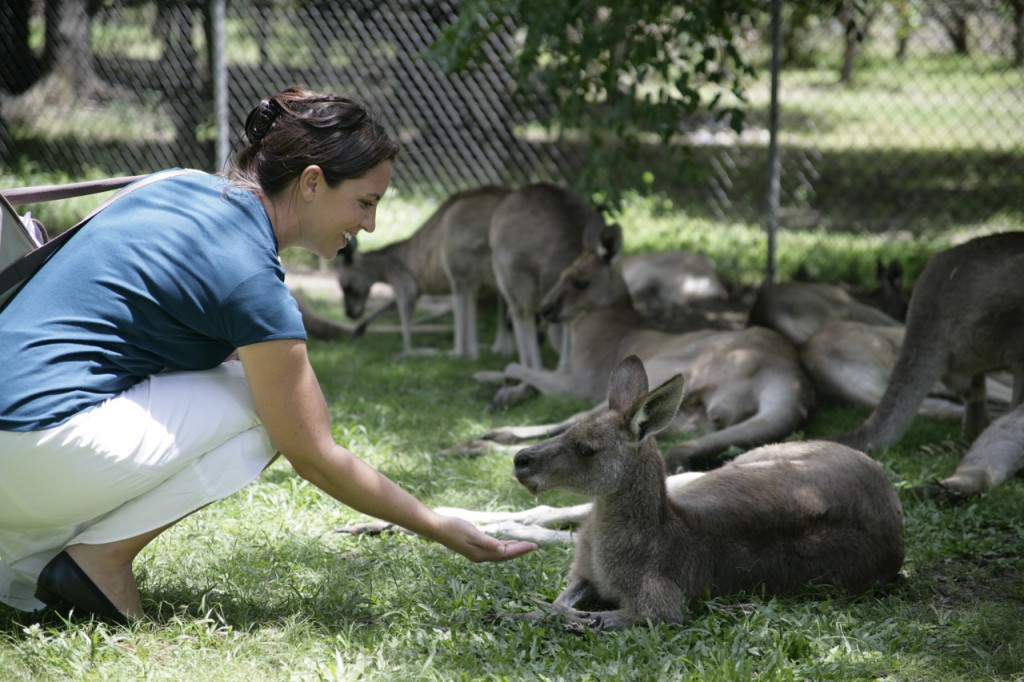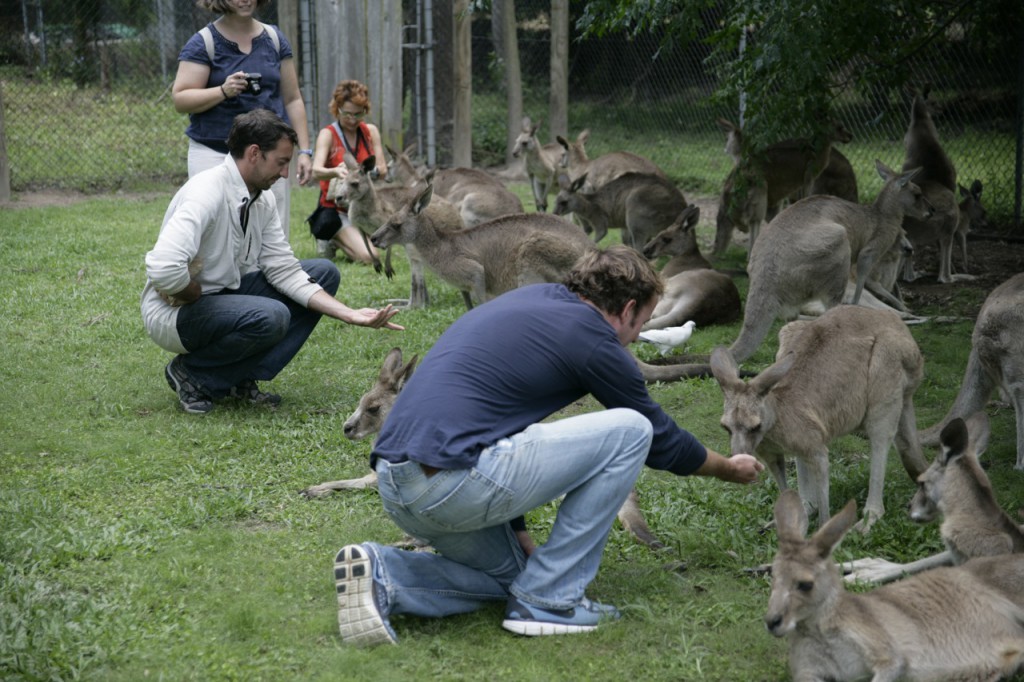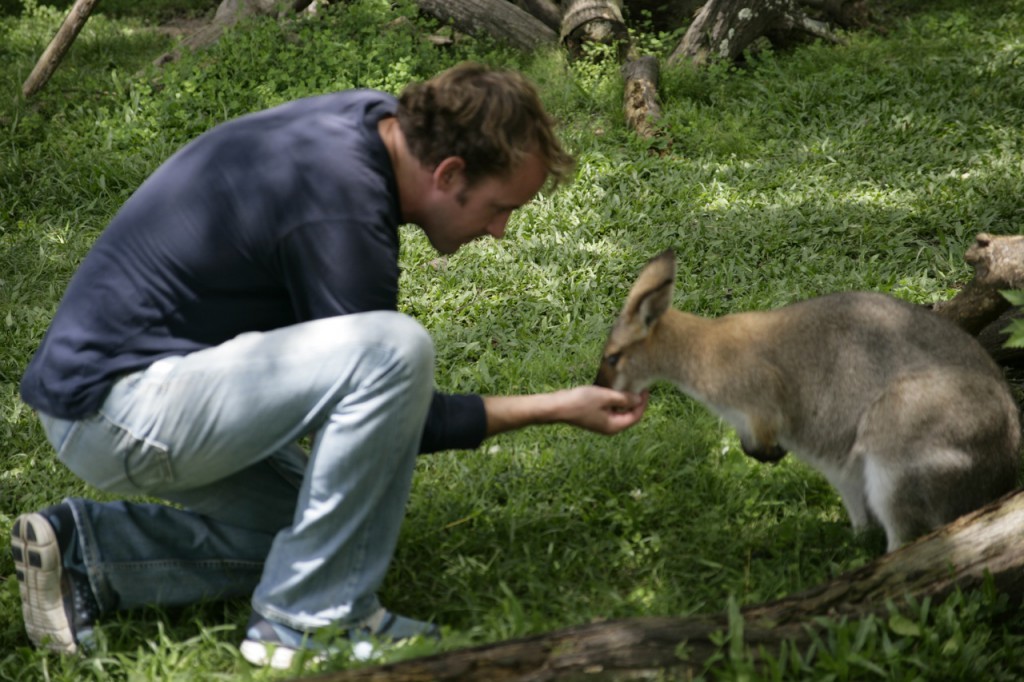 And then, of course, there were all sorts of other fun things: crocodiles, lizards, snakes, goats….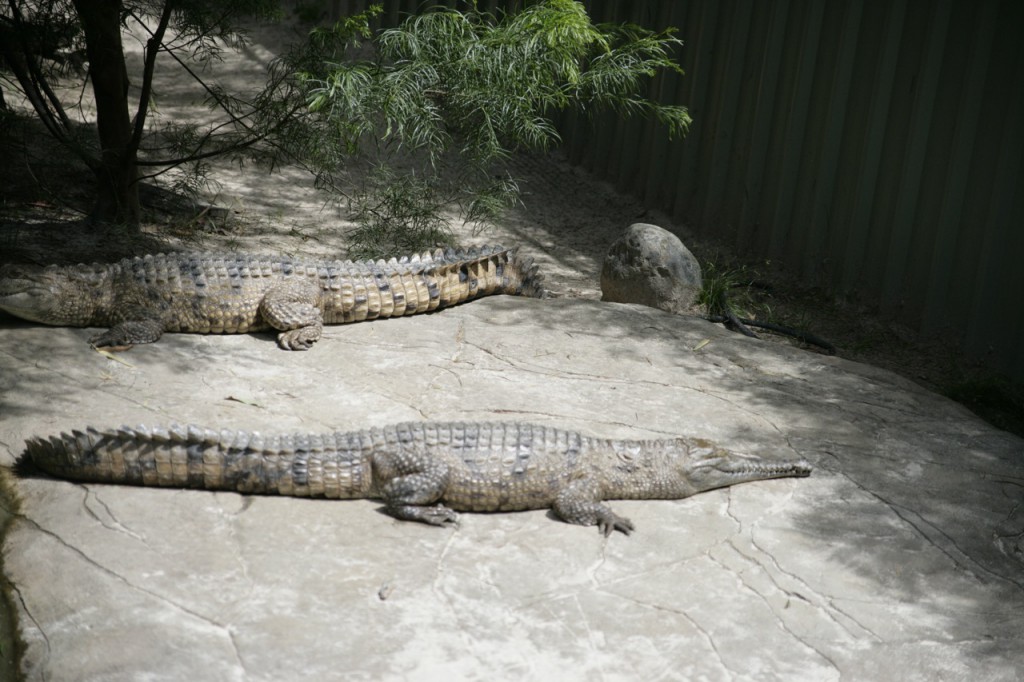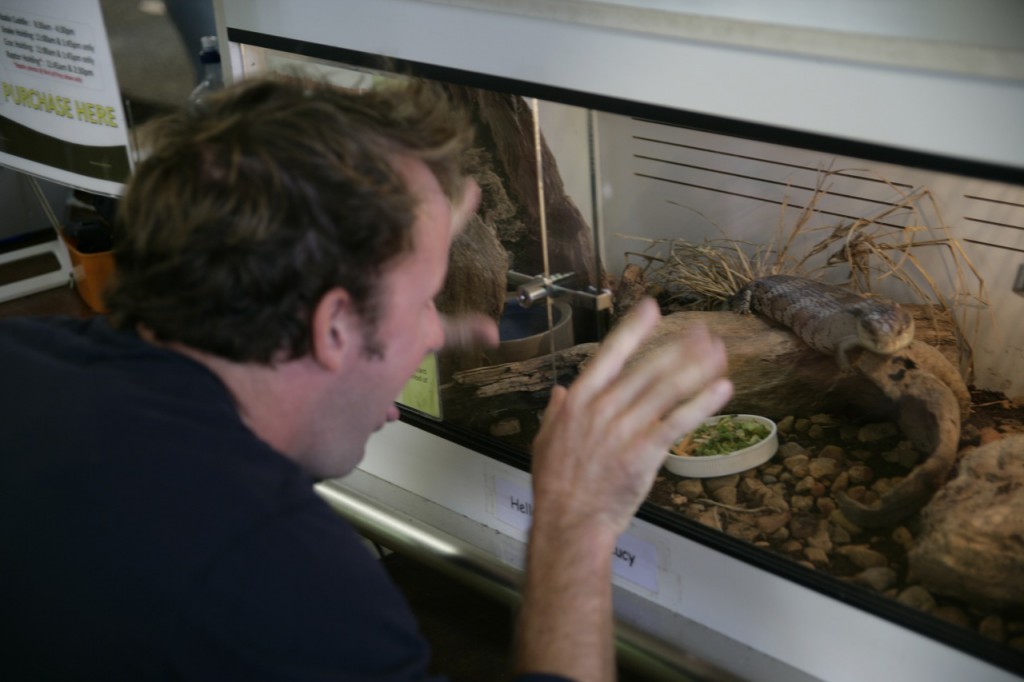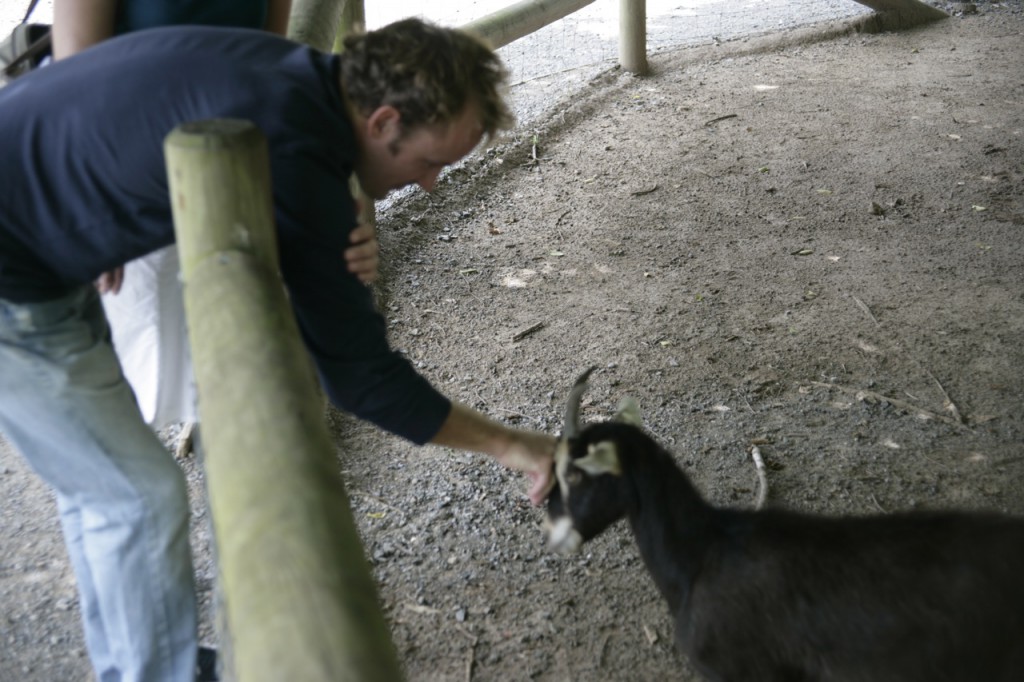 We DID get to hug a koala, but didn't get a picture of it.  They require you to buy one of THEIR pictures before they let you take your own, and the cheapest of their pictures was $16 for a postcard.  Um, no thanks.  The koalas weren't particularly soft but they did seem quite cuddly as they just hang onto you like a little child and your instinct is to hug em and squeeze em, well, until you see their sharp claws resting near your neck and think twice about doing anything that might spook them 🙂
All in all, it was super fun day and a great way to learn about Australia and their local fauna.