Who says February isn't an AWESOME month for motoring sailing!?!?!?
AAAAAAAAAAAAAAAHHHH!!!   I still cannot believe that we are actually doing this sailing thing.  For one, our San Francisco departure was particularly unexciting.  We were initially beset by some engine problems and hoped Pete and Matt fixed it, so Wednesday morning when we woke up and found the engine to be working fine, we knew it was time to go.  The only one on the dock to see us off was our neighbor Greg.  He waved us off and we headed to the fuel dock to fill up.  Good thing we did because there was no wind for about 2/3 of our 3 day sail and we put about **30 hours** on the engine right away.
So, Wednesday late morning we motored our way out of the Marina, feeling a little shellshocked that we were really LEAVING – and very unlikely to ever return.  We motored out past the Berkeley pier and had the entire bay to ourselves!  My brother was even able to catch us on the Golden Gate webcam because we were the only boat out there!!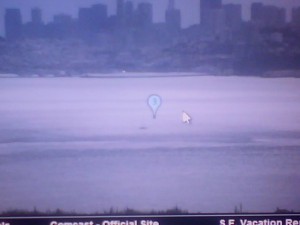 I cannot explain how unreal it was to motor under the Golden Gate Bridge.  The sense of OH MY GOD!!! WE'RE REALLY DOING IT!!!  cannot be overstated! 🙂   I told Matt to take the helm because I thought it important that HE do the honors of guiding Syzygy under the Bridge, and then I grabbed the camera and took pictures from just about every angle so that I could get his head and and the bridge in the same frame. Then I grabbed the video camera and got some footage just outside of the bay.
Anyway, out of SF, we were eventually able to put up the sails  and then headed south, where we promptly ran out of wind.  We tried to eke out every breath of air with Jon's INCREDIBLE Drifter light-air sail that he sewed all by himself.   Not only is it beautiful but it really does manage to catch whatever wind might be available.  So, even if we were only going 3knots (aka about 3mph) it was a lot better than doing 5knots while inhaling diesel fuel and listening to the grumbling of the engine.
With Pete and Ray on board and with a plan to sail non-stop as long as we could, we went with 6-hr watches.  Specifically, Pete and Ray had the 2am-8am and 2pm-8pm watches while Matt and I took the 8pm-2am and 8am-2pm watches.  The first night watch was crazy.  I strained my eyes the whole time, convinced that we were going to run into an errant cargo container and I desperately needed to be on the lookout for it.  But, as Matt said, there's only so much you can control and by our third night watch, I was curled up in the cockpit, wrapped up in my puffy down jacket, beanie and fleece pants, holding tight to my handwarmers and sleeping soundly while Matt woke every 15 minutes to look around.  So, it's safe to say I'm adjusting to boat life  🙂
Last night, just as we finished dinner, Pete and Ray yelled at us to come to the bow.  At first we didn't see what was so exciting – our eyes slowly adjusting to the dark.  THEN, one of the coolest things I've EVER seen –  four dolphins swimming just ahead of our bow, but you couldn't actually see them, you could just see their bodies outlined in phosphoresence.   They looked like glowing, ghostly images, weaving back and forth in the water, streaming glittery fireflies of light behind them.  It was unbelievable.  I've never seen anything like that in my life.
It was a great way to end a day that started out with us rounding the ever-feared Point Conception.  This piece of land that spits out from central CA is the nemesis of many sailing down the coast.  Winds can be crazy and waves high and heavy.  When we told other cruisers of our winter departure plans, they all warned us of this difficult area and kept emphasizing the need to wait for a good "weather window."  And, hallelujah, a good weather window we had!!!  Although I certainly cannot lay claim to controlling the wind, the waves, the weather, the timing, let me gloat a little by saying that we approached this critical point under a reefed main and the drifter, then when the winds kicked up, we went to a double-reefed mainsail and our full jib and we kicked Pt. Conception's a**!!!!!!!  We were doing 6-8 knots and Syzygy was like a racehorse out of the gate.  You could feel that the boat was doing exactly what she was meant to do.  She seemed to love the sail set-up and the ride was totally comfortable.  The four of us just hung out in the cockpit, watching the point fade away, laughing and smiling at our good fortune.
But, going from total landlubbers to mad, wicked sailors doped up on scopolamine (seasickness meds) takes a toll on the body and when we woke up Saturday to the most gorgeous sunshiny day in Santa Barbara, we all breathed a sigh of relief to be *WARM* and through the worst of it (we hope) and able to sleep for more than 5 hours at a time  🙂
We are trying to get some rest and are enjoying this lovely little beach town, and will probably head for San Diego on Tuesday!
Check out Matt's blog for more videos – his video journal is fun 🙂
Huge thanks to all who have prayed for us and sent good thoughts our way!!! 🙂