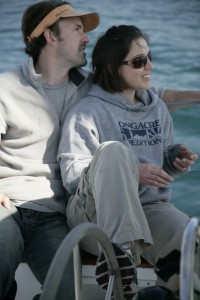 Matt and I were married in October and even though we had a fun road-trip from CA to NJ and then had a nice relaxing three days at a beach spa/resort (thanks again Aunt Arlene & Tom!), we didn't have a "real" honeymoon.  Those other get-aways were somewhat negated by the stress and craziness of preparing for and hosting the wedding.  So, when Pete & Ray departed last Saturday, Matt's mom appropriately commented, "so, now the honeymoon begins," and she's right!  At least, I hope this part of the trip feels like a honeymoon and not like constant work and fighting for sleep.
Even though we had considered hanging out in Catalina for a while, the weather was good on Sunday so we chose to haul up our anchor(s) – yes we eventually put down two to prevent us from another midnight mooring ball incident – and departed the island.  We had a beautiful sail out of Catalina, 15-20 knots of northwest wind with about 2-3 foot swells.
One thing I've really enjoyed about sailing out here is watching the various "moods" of the sea.  I've heard cliches about it before, but it's a totally different thing when you actually SEE it.  The other morning, as we were heading into Catalina, the ocean was unbelievably flat, one of those mornings when I understood how the Pacific got its name.  As I looked across the water, oddly smooth and black as obsidian, I tried to think of how best to describe it (because black as obsidian just doesn't capture it).  So many cliches came to mind ("liquid glass," etc) but none of those seemed right…   Finally, I realized what the scene reminded me of:  the sea was calm and soft, with smooth rolling waves, like a down comforter that had been fluffed and gently laid upon the earth.  It was the sense of softness that my mind struggled to convey…  Later, when we were sailing down to San Diego, the water was much more lively.  Waves ran up to the boat, some jumping up at the last minute, slapping together as though they were giving each other high-5's.  At night, the water is spooky, inky black, waves creating shadows over the rails, their troughs flashing with phosphorescence.  Even though I've spent a decent amount of time sitting on beaches and staring out at the water, I've never spent any real time on the sea like this, getting to "know" it.
The one thing that never changes, and how cliche it is!,  is how the ocean makes one feel so small and insignificant.  Even in the calmest waters, I'm overwhelmed with how inconsequential my little life seems.  One of my hopes for this trip is that I can reconnect to the deeper part of myself, the part that is self-reflective and willing to answer (or at least investigate) the larger questions of meaning.  What I've learned, though, is that I need complete silence – both figurative and literal – for me to do any real introspection.  When we've gone camping in the Sierras, in our very much off-road style, I've loved that life becomes so elemental.  The biggest issues one faces are do I eat now or later? do I make a fire or not? The utter isolation from "real life" refreshes my spirit in a way few other things can and in those moments I can handle, and even invite, more serious soul-searching.  I've had a harder time, so far, finding that same peace on the boat.  I think it's possible, but there's been so much activity and so many people around that I haven't been able to feel that necessary sense of distance from the drama and problems and headaches of the everyday.  What is funny to me, and really annoying, is that despite the grandiosity of the sea and how it thus makes me feel so tiny, I still need absolute stillness and solitude around me to fully appreciate this opportunity to reflect on my world.
When Pete and Ray were here, I was impressed with Ray's ability to journal her thoughts while sitting in the cockpit, me taking video, Pete and Matt talking boats.  She was able to focus on herself and her thoughts, analyze her situation (or whatever she was writing about) and feel as though that time and her journaling was meaningful, and she was somehow not distracted by us.  Now, I can easily record a lame diary in the presence of others, but those entries are pretty much like my blog – "Today we went to Santa Barbara.  I ate a taco."   I mean, it's nearly impossible for me to do any real digging when anyone else is around, even Matt.  I don't know why that is.  It's as though I have some bizarre fear that people will see me and, "*gasp!* she's journaling…"  I know it's slightly arrogant to think that people around me would give me a second thought, but then again, I do have a tendency to cry when I'm writing about certain things I'm dealing with and a woman in tears generally elicits at least some attention. It's even stranger that I would actually care what other people think about what I'm doing, especially when it's something as tame and common as journaling, but I've never claimed to be sane or rational or mature, so FYI, you're all reading this blog at your own risk.
Anyway, even though I know it will mean less sleep for us because of shorter watch rotations, I'm looking forward to it just being me and Matt sailing down to Mexico.  Not only will we be honeymooning :), but I'll be on watch by myself and will get the alone time I need to do the soul-searching I want.  At least, I hope that's what my future holds outside of sail changes, weatherfaxes, and quickie naps!