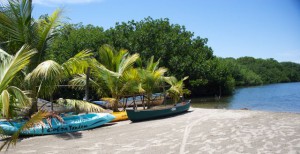 Tenacatita is the first place we've been to, so far, where my first thought was NOT to get online and check email or facebook or post a blog.  No, instead, my first thoughts were – WOW.  THIS is what cruising is about…  why didn't we come here first?!?!!?
Bahia Tenacatita is BEAUTIFUL.  Compared to all the other non-exotic ports we've checked out, Tenacatita is Heaven.  This "Gold Coast" of Mexico is easily the prettiest scenery we've seen on our whole trip.  The coastline is long stretches of white (gold?) sandy beaches, tall dramatic mountains and jagged rocks with spectacular breaking waves.
We originally thought the trip would take us just a day and a half – about 33 hours.  Buuuuttttt, per the norm, things didn't go exactly as planned and Mother Nature had her way with us on the way down.  Thankfully, it wasn't a BAD way, but we fought a 2 knot current most of the way once we left Banderas Bay and we had at most 5 knots of wind the entire time and it was pretty much always right in front of us.  So, sailing or even motoring upwind in five knots of wind with a decently strong current pushing you back, is not the easiest thing to do or the fastest way to get where you're going.  Good thing we weren't in a big hurry otherwise it could have been a very frustrating experience.  Jon was good-natured about it all, enjoying just being ON the boat outside of a marina, so I didn't feel *too* bad about him spending his spring break on the water and not in a beautiful anchorage.
We had left La Cruz on Monday and we pulled into Bahia Tenacatita mid-afternoon on Wednesday after motoring for a good part of the night.  The bay was so pretty.  I wish I could explain to you the sense of happiness that filled both Matt and I as we motored into the anchorage.  It really felt like we were seeing the world in a new light, seeing the cruising life in a new light!  It was a revelation of, "Oh, so THIS is why people like to sail…"   It was a much needed insight into what our future might hold.
Unfortunately, we are simply too fortunate in that nothing really exciting happened to us.  The only things I have to share about our time down there are 1) antics during the Jungle River Dinghy Tour and; 2) the dolphin that wouldn't swim with me.  Blah. But, I'll post a few pictures for now and hopefully we'll get some video uploaded soon from the dinghy excursion.  The most awesome thing, though, was how relaxing it was to be there.  I mean, I actually THOUGHT about stuff.  Like, deep thinking kind of thoughts.  Like, what is the meaning of life kind of thoughts.  The last time I did that sort of introspection was………………………………. college?  Anywho, it was fantastic to think again and to not feel like there was anything more to do but lay out on the foredeck and slather on the sunscreen.
Now, we are back in La Cruz and if all goes well, we are planning to head out on our big Pacific crossing sometime next week.  Starting tomorrow, we are in full-fledged final prep mode and I'm getting really excited.  I know everyone says that it's a month of really boring days with the occasional exciting thirty seconds thrown in, and I'm sure we'll experience nothing different, but, still, 3000+ miles of wide open sea?!?!?!  That will be as far away from it all as I'm sure I'll ever get. Aieeee!!!
Bahia Tenacatita: