We showed up in Toau just ahead of a low pressure system that was moving through the area.  We set our anchor, letting out almost all 250 feet of our rode, but laughingly never getting more than 20 feet from our anchor as we successfully wrapped ourselves around a couple of coral heads.  Anyway, we got ourselves settled and were soon boarded by Mike and Hyo of s/v IO.  Mike regaled us with tales of spear fishing and lobster hunting with the locals and immediately asked Matt and Jon if they were interested in going out that night to search for lobsters.  Later that evening the guys headed to the beach to scout spiny red lobsters.  They came back empty-handed, and Matt described the experience as wading through cold water, in the dark, seeing absolutely nothing.
The following morning, however, they had a bit more fun.  Mike had talked with the locals and they invited the guys to come with them to net some fish.  So Matt, Jon and Mike dinghied into shore around 11:00 and returned an hour and a half later with five parrot fish.
"Aah! You caught some fish!"  I exclaimed when they arrived back to the boat holding up their catch.
"Well, not exactly."  Matt said. "The dude threw out his net and then we all stomped around in the water trying to scare up some fish.  It was more stomping than fishing."
"Well, it worked!"  I said, watching Mike lay out the fish in our cockpit.  And, then, to my surprise, Matt sat down next to Mike and my husband – who, for the past three years, has swore up and down that he didn't want anything to do with handling fish – picked up a knife and began filleting.  (He says it was because I didn't show any interest in doing it and someone had to learn… whatever)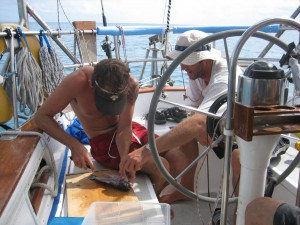 On land, the guys had also picked up several coconuts and brought them back to the boat as well so we could make fresh coconut milk to accompany the fish in a fabulous "poisson cru."   After filleting the fish, Mike whacked open some coconuts with his machete and then the guys had a contest.
One of the locals, a guy named Wallace, had taught Mike and Hyo the secret of making coconut milk.  See, the stuff that comes out of the coconut when you first open it up, the stuff that you always see everyone sipping through a straw, is not coconut milk – it's coconut water, which can be sweet or sour depending on what stage of development the coconut is in (and no matter what stage it's in, I'm not a fan).  To get coconut milk, you must finely grate the coconut meat and then squeeze the creamy milk out through cheesecloth (or similar material).  The question for us was how to finely grate the meat? The locals have a special device they use, but what would we do?  The guys decided to try two methods and see which one worked the best.  Jon went down below and came out with our cheese grater, aaannnnd our cordless drill.  Turns out that a drill will grate coconut pretty well!!  Later, we took that grated and shredded coconut, wrapped it in a piece of old cotton bedsheet, and squeezed the cream on top of our lemon juice and onion marinated fish.  Delicious!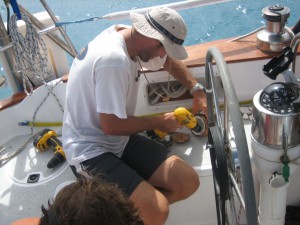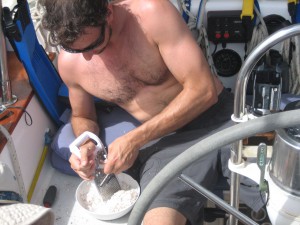 Afterwards, we introduced Mike and Hyo to a game Jon had brought with him called Carcassone.  It's a strategy, take-over-the-land sort of game and we played way too long into the night.  Mike, Hyo, Matt and I have all become accustomed to going to bed before 9:00, sometimes as early as 7or 8!  So, staying up past 11:00 was pretty radical for us.  Jon, however, was still going strong….  we'll see how long that lasts 😉
Shortly after the fish and coconut carving had ended, the rain and wind began in earnest.  All during dinner and our game, it poured outside and blew up to 30 knots.  The weather continued throughout the night, with gusts of 48 knots recorded at another part of the atoll.  The next day was much of the same, rainy and windy and we all stayed in our boats and didn't do much.  We did join up in the evening for another round of Carcassone, though, and once again stayed up well past our bedtime.
Because of the weather, our time at the southern anchorage of Toau was more about spending time with Mike and Hyo than it was taking pictures or snorkeling or wandering around on land.  I only got in the water a handful of times and the water wasn't all that clear because of all the wind and rain.  But, it was so much fun catching up with IO again, that I didn't care that I spent 95% of my time inside.  🙂
Once the system passed us, there were favorable winds for a run to Tahiti, so Mike and Hyo packed up and headed out.  We followed them out the pass, but turned left when they turned right.  We had heard that our friends on Blue Bottle, Joe and Adrienne, were up in the northern anchorage of Toau, and we were anxious to finally meet them face to face and see what sort of paradise they had found.
So, we had a really lovely sail up and around Toau and pulled into this funky little cul-de-sac of an anchorage on the outer reef of the atoll.  And, to top it off, we arrived just in time to join Blue Bottle and the crews of the other ten boats for a happy hour on the beach.