Wow.  What a whirlwind week.  The moms arrived in Tahiti last Friday, after a long day of traveling – Sandy (Matt's mom) from New Jersey, my mom (Vicki) from California.  Matt and I had planned to surprise them at their hotel, but their late arrival combined with the lack of buses combined with our hunger and imminent grumpiness if we didn't eat something soon convinced us that eating chinese food at La Roulotte and joining them on Saturday would be the better idea.
We called them at their hotel and agreed to meet there on Saturday morning for breakfast.  After breakfasting at their hotel buffet – oh the goodness of having unlimited fruit, danishes, sausage, and cheese!!  – Matt headed back to the boat to prepare for sailing to Moorea with Jon and I accompanied the moms to the ferry and to their hotel in Moorea.
The moms stayed at the Intercontinental Resort, also known as the Beachcomber.  It is on the far northwestern side of the Moorea "heart," and a 45-minute, $45 taxi ride from the ferry.  The resort itself was beautiful and we could not get over how quiet it was!!  The resort had a newly installed infinity pool and float-up bar that was nice but not nearly as impressive or spectacular or swim-inspiring as the pool at the Intercontinental in Tahiti.  There were a couple of boutique shops in the main building and then dozens of thatch-roofed bungalows lining the edges of the hotel's lagoon.  The "normal" rooms were in a two-story building in the center of the resort, each room with a garden or pool view, and all of them having some sort of view of the lagoon and reefs.
Our first night, we upgraded the room to a bungalow so I would have a bed to sleep in.  At this point, we didn't know whether Matt or Jon had got the boat ready in time to make it to Moorea that day.  Eventually we learned that they did and Matt joined us that evening after a heinous trip in the dinghy trying to navigate the channels and reefs in the dark!  Until he arrived, the moms and I enjoyed lounging on our patio, drinking wine and eating grapes, relishing the luxury of having a waterside room.  That night, unbeknownst to the hotel, Matt and I slept closely cuddled on a trundle bed that pulled out from under the couch.  🙂
Sunday and Monday were the "lazy" days.  We took the moms snorkeling but were sorely disappointed by how murky the water in the lagoon was and how few fish there were!!  I think our moms were simply excited and happy to be trying something new, but Matt and I later went off in search of better snorkeling options while the moms laid out by the pool. We also took the dinghy from the hotel to the boat since Sandy had never seen the boat.  It was a long trip, the wind was in our face and we took gallons and gallons of water over the bow. The moms were soaked to the bone, seawater and sunscreen getting in their eyes, but they both proved true sports, and Sandy got a rude intro to our cruising life as she spent the last half hour of the ride bailing water out.  Sunday night, we moved from the bungalow to the central building and again, unbeknownst to the hotel, Matt and I created a bed for ourselves out of extra pillows and chair cushions.  We splurged after that and Matt and I booked ourselves a room for Monday and Tuesday nights.
Tuesday, the moms and I had a spa day while Matt hung out trying to waste time without a book to read.  I'm not sure whether he enjoyed himself, but the spa time was FANTASTIC.  We started with a "river bath" which ended up being us three naked women (I know! naked with my mom AND my mother-in-law!!!?!?!?!?), huddled in the corners of a little rock-sided tub, teeth-chattering and goose-fleshed all over because it was so.freaking.cold.  "It's refreshing"  we kept trying to tell ourselves as our lips turned blue.  We finally left that for a nice warm foot bath with fresh flowers which was followed by the very best part – 45 minutes of delicious massage.  I felt like a new person!
Wednesday, we all got up early and took the ferry into Tahiti to shop in Papeete for the day.  The moms were prepared with lists of all the different things they wanted to get for themselves, friends and family.  We stopped for breakfast at a little cafe and then headed straight to the Papeete Market.  Matt read and drank his coffee while we women spent hours wandering the rows of knick-knacks and jewelry, and trying on every colored pareo, struggling to figure out which ones we liked best.  After we were through with the market, the question was what to do next?!?!  Papeete is not one of those cities where you can simply be content to meander through the streets.  There really just isn't all that much to see!  We found a place to eat lunch then just sort of wasted some more time before catching the ferry back to Moorea.  The moms convinced us to take them up on their offer of one more night in the hotel, so Matt and I enjoyed another 24 full hours of being off the boat!
Thursday was a fabulous, memorable day.  Sandy and I spent the morning with the hotel's dolphins.  At first, I was not thrilled with the idea of paying all that money to interact with dolphins in captivity.  I've never joined PETA or carried around a picket sign, but after seeing dolphins flock from miles to come ride the bow waves of the boat and watching them swerve and jump and play out in the wild, it was hard to see the dolphins here just swimming idly around their tiny pools.  By participating in the hotel's dolphin-centered activities, I felt like I was supporting this idea that keeping dolphins in captivity is a good thing.  Selfishly, though, swimming with dolphins has been a childhood dream of mine and I rationalized that these dolphins likely had a background – decided long ago – that would prevent them from ever being able to survive in the wild anyway.  Plus, one of the reasons that *I* became so passionate about dolphins as a child was because I first learned about them and saw them at Sea World.  So, with all my PETA defenses in place, I unabashedly celebrated Sandy's meet and greet with the dolphins and thoroughly enjoyed my own encounter which included holding onto the dolphin and getting pulled underwater with him!    After our dolphin swims, we met up with Jon and all five of us took the dinghy (yay for the new outboard!!) out into the lagoon to meet the sting rays.  Similar to the dolphin thing, this is one of those "wild" experiences that feels a little commercialized.  The dive centers started feeding the sting rays years ago so that the sting rays will flock to the sound of an engine.  Tour boats and dive boats can take their clients out, hand them a small bit of fish and suddenly you have sting rays practically molesting you – multiple rays will rush to you and rub themselves all over your body in an effort to get the fish in your hand.  My mom was one of the first of our group to be so molested  🙂   Adding to the excitement were the five six-foot long black-tip reef sharks hanging out about twenty feet away.
Matt and I returned to the boat that night, our first time back in days, and it was actually kind of nice to be surrounded by our stuff again.  The boat felt "cozy" after having slept in a huge king bed the last three nights.  🙂  Friday morning found us up early again though, to meet the taxi and the moms to head back into Tahiti.  The moms were flying out at 10pm that night, so we thought we'd use the day to rent a car and drive around the island. The trip around Tahiti, including bits of Tahiti-iti is less than 130 miles, so it's pretty easy to do in a day.  We went to Point Venus and checked out the lighthouse, stopped at a waterfall, and ate lunch while watching locals surf some pretty hefty waves.  We drove up to a lovely lookout spot on Tahiti-iti, and took in some rather unimpressive Tahitian ruins.  We ended the day with dinner at a restaurant near the Papeete quai before heading to the airport to drop the moms off.  That night, Matt and I spent the night sleeping in our little Puegot rental car in the parking lot of the Tahiti Yacht Club after our efforts to find someone we knew at Marina Taina came up short.  We got up early, again, dropped the car off, ferried back and arrived at the boat thankful and happy to be there.
I couldn't believe the week went by so fast.  We did so much stuff and it was sometimes relaxing, but wow, the time flew by.
It was great to be with the moms. It made life feel "normal" somehow.  AND, the week away from the boat did WONDERS for me.  Being at the hotel, living out of bags, eating out for almost every meal, trying to negotiate all the details of traveling around… it made me appreciate the boat again and the contrast made the boat feel like "home."  However, I am already missing the hot showers, the spacious bathrooms, that luxurious bed, even the TV that had 6 channels, and only one in english.  I think that we should make this hotel visit a regular thing in the coming months, even if it's only one night here and there 🙂
Thank you mom and Sandy for coming to visit!!!  And thank you for your generosity and thoughtfulness, for being willing to bring all that extra stuff for us, for traveling together, for being so easy-going, for allowing us to see the islands through your eyes and for being encouraging and supportive of us.
I really really enjoyed having you here!!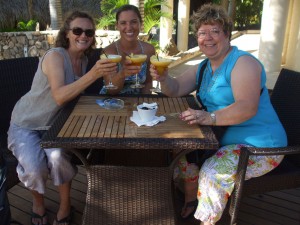 More photos to come….   🙂