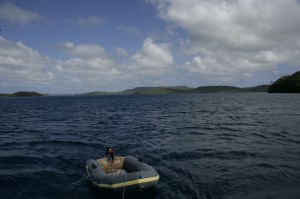 Vava'u is beautiful.  We arrived fairly late in the day, dropping anchor in the lingering moments after sunset in a small cove just shy of the main port of Neiafu.  I woke up the next morning and instantly fell in love with Vava'u – birds singing and chirping, clear blue water, and lush green tropical islands.  Strangely, though, what I liked most about the whole area is that it didn't feel at all like we were out in the ocean.  To me, the small part of Vava'u that we've seen reminds me more of being on a lake up in the mountains.  I can't explain that odd feeling except to say maybe it has to do with the fact that, for the first time since leaving San Francisco, we cannot see the open ocean and, for the first time since leaving San Francisco, I look around and we appear to be land-locked.
I just now realized that.
We cannot see the endless, open ocean.
For the first time in a very.long.time.
And it's really kind of nice.
I'm such a mountain girl.
Anyway, Neiafu is a pretty little town and has much more of a community feeling to it than any of the other villages we've visited in the south pacific.  (Cruisers: see my notes below the pics.)  Granted, the community we are seeing is not exactly true Tongan as the water front is stocked with palangae's, i.e. foreigners.  Most of the business owners here are Australian, New Zealand, British, American.  It's only when you get away from Neiafu to the other islands or the inner villages that you get a glimpse of "real" Tongan life.  So, although we've spent a week in Neiafu, I hold no perceptions (??) at all that we have actually experienced what Tonga is really like.
But, I have to say that it has been interesting talking to some of the business owners here about their lives in Tonga and it has been wonderful being in a town with so many cafes!!!  The restaurant that owns the mooring we picked up is called The Aquarium Cafe and it has a great dining balcony, reasonably priced food, the friendliest staff anywhere on the waterfront, kind owners who will stop and chat you up, and free wireless internet. Thus, it has served as our "base" this last week.  No matter where else in town we wander or hang out, we always ended up back at the Aquarium where the staff and owners greeted us with knowing smiles.  We didn't even have a place like this back in San Francisco!!  It's been… comforting to have somewhere to go where we can just order a coke and hang out all day, reading our books or checking email.  We've also enjoyed time at The Crow's Nest Cafe, which Matt says has the best coffee in town.  We had showers at the Giggling Whale & Thirsty Turtle and chowed down on the best burgers at The Sunset Grill.  YUM.  And, New Zealand ice cream – WOW.  We haven't had any really good ice cream since leaving the states.  Mexico was ok, but the south pacific has been disappointing.  Then again, it's not like ice cream is part of the native diet.  But, NZ does it RIGHT as we've learned here in Tonga, where most of their food products come from Oz or NZ.
And what *I've* learned is that long passages, like the one we had from Huahine to Tonga, are hazardous to my health. When we finally arrive in a place like Neiafu, we – I – feel all too justified in gorging ourselves on "fresh" foods – which means anything that doesn't come out of a can and isn't cooked by one of us.  Oh, the calories I have consumed this week!!  And now we're getting ready to head to Fiji and are already dreaming of the delicious Indo-Fijian curries awaiting us.  Oy. I need to control myself.
Sadly, our time in Tonga is going to have been spent almost entirely in Neiafu.  I say "sadly" because as much as I like hanging out here, Vava'u is a "cruiser's paradise" because there are dozens of other little niche anchorages on the other 40+ islands with all kinds of caves to check out and awesome snorkeling and diving sites. The exhaust manifold on our engine sheared off on our way from Bev. Reef and the guys managed to rig it together enough to get us to Tonga.  But, it came apart again while we were here and that resulted in a few more problems.  So, the guys have spent a very frustrating week stuck in the engine room for hours on end.  With our friends flying into Fiji in just a few weeks, we have to get it fixed and get going.  The guys think they've finally got it all figured out and the engine is slowly getting put back together but it means that we are just about of time to explore the other islands.
I guess it means we will just have to come back here again in a few years and charter a boat   🙂
Vava'u, really, is a place you shouldn't miss.  (And, for non-cruisers, seriously – skip Fr. Polynesia and pay a little bit extra to fly here.  It's cheaper than Fr. Poly and, I think, more beautiful!  Of course, if you're not into diving/snorkeling, it might be a little boring, but then again, a good vacation can also be spending the afternoon in a hammock with a book or taking weaving lessons from the locals, right?)
Here are a few pictures from Neiafu.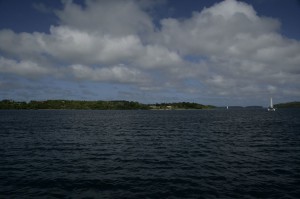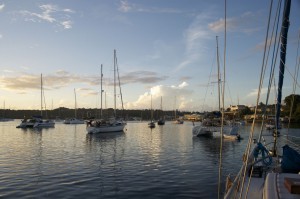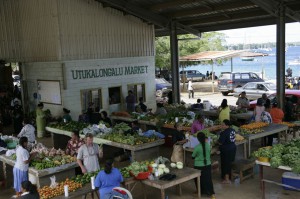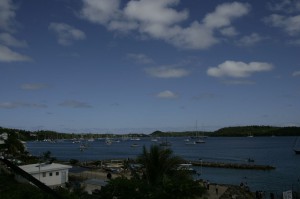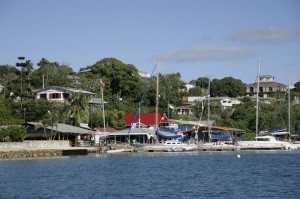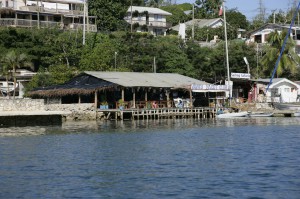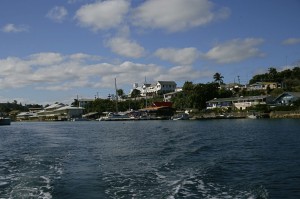 Cruiser's Notes:
Getting into Neiafu is very easy.  There are lead lines/lights on the hillside that you can line up for entry to avoid any submerged reefs and guide you into the harbor.  The lights are very bright red at night and coming in at night would be ok except 3/4 of the boats in the mooring field wouldn't have anchor lights on and it would be pretty hard to see.  There are several anchorages on the way into Neiafu, so if you arrive just before dark, you could spend the night in one of those instead of heaving to outside.  Also, the northwest side of Vava'u, the largest main island, has a relatively shallow shore that you could anchor along (20-40ft) and in S/E winds, you would be well protected.  Make sure that you arrive in Neiafu on a weekday! If you arrive during the weekend, you could end up spending the whole time on the Q dock or run the risk of incurring various fees from customs/immigration, including $20 (tongan) for the officials' overtime.  There is currently no schedule of fees and while we were here, boats experienced numerous discrepancies with fees.  Some had wine confiscated for no reason, others were charged $50T for departing on a Saturday and then later told to be glad it wasn't $100T.  We were charged no departure fees.  Immigration is free if you arrive on a weekday, but we checked in on a Saturday and were charged $20T per passport plus $20T for overtime.  Someone else told us that Customs or the Harbor Master charges $7T when you leave the harbor, but he didn't charge us anything.  So, get a receipt for EVERYTHING that you pay for.  We heard from the local business owners/tourism officials that if you feel like it isn't right or that other boats experienced something different, you can go to the police or back to immigrations/custom and get a refund – but only if you have proof of payment first.  Other than those issues, checking in/out was a fairly informal, easy, quick process, but be prepared for the officials to take their time and if customs tells you to return the next day for immigration, don't be surprised if immigration tracks you down at dinner later that night… (yeah, that happened to us. Oops.)