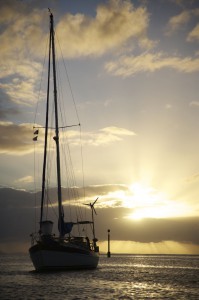 Our initial plan was to leave Fiji on Saturday Oct. 9.  We didn't feel too concerned about weather since we hadn't heard rumors of anything nasty coming up, but – as usual – it's always a good idea to check.  The weather for the near future – 2 days out – looked perfect, but the weather beyond that looked scary.  Our weather websites were showing 25-35 knots of wind with gusts up to 40 and a15-20 foot swell.  No thanks!  I fairly insisted that we stay nice and safe in Port Denerau.  We were looking at a 4-5 day passage to Tanna, Vanuatu and so would be right out in the thick of the storm if we had left as planned.  We are so near the end of the trip, I thought, why risk it?!  So, we hung out in Port Denerau for another week, leaving the following Thursday once the weather had calmed down.
After a relatively benign passage, we arrived at Tanna, Vanuatu early Monday morning pleasantly surprised to see some of our cruising friends – S/V Savannah & S/V Victoria – anchored in the bay as well.  When the sun was a bit higher in the sky, we called them up to say hello and it wasn't too long before K from Victoria stopped by our boat.  She came on board and we chatted about Fiji and the passage and then she started telling us of the local news.
When the storm began to rage, there were a few villagers on Tanna who were insisting on going back to their home island, a dozen or so miles away.  The owner of the small boat that would be ferrying them didn't want to go, but the people persisted.  Not too far offshore, the boat capsized in the waves.  Of the twelve people in the boat, a handful were able to swim to shore.  Strong currents took the others out to sea.  The next morning, SeaLevel, a fellow cruiser, pulled into Port Resolution, greeted by dozens of men in outrigger canoes calling for help.  SeaLevel took on several of the villagers and called to an approaching boat, Endless Summer, to go back out and see if they could find any remaining survivors.  Of course, with the currents, the wind and the waves, it was difficult to even know where to start searching.  SeaLevel later described to K how one villager, maybe a Shaman (?) stood at the bow of the boat and chanted and prayed, eyes closed, fingertips to his forehead.  Finally, he told the skipper calmly, "I see them. I see them in the water.  We must go this way…"
Three people were rescued.
I had barely recovered from the drama of that story before we talked to Savannah who told us of another disaster.  Savannah had left Fiji just before the storm, putting them out in the middle of it a few days later.  They were down below, safe in their cabin, watching hundreds of gallons of water pour over their portlights as the 35 knot winds threw spray across their beam, when a message from Air Rescue New Zealand came blaring over the VHF.  An EPIRB (emergency position indicating radio beacon) from a sailing vessel had gone off just thirty miles south of Savannah; all vessels in the area were requested to keep a lookout; Rescue NZ was on its way.  A few hours later, another message came over the radio that the rescue helicopter was low on fuel and would have to return to its base.  It had scanned the vicinity of the EPIRB's position and found nothing, BUT there was debris in the water.  As a cruiser, your heart stops when you hear those words.  Debris in the water.  No boat, but debris in the water.  You have only one thought – the boat must have sank.  My throat tightened as I thought of all the people we have met along the way, all the cruisers we knew who were in Fiji this last month, all of them planning to head west, all of them feeling the time crunch to get to New Zealand or Australia before the cyclone season…  What if it was someone we knew?
The name of the vessel was never given over the radio and, so far, we still have no idea who it might have been.  I dread the thought of getting to New Caledonia or Australia and hearing about the boat who was supposed to be there, too, but isn't.
I'm thinking of these stories tonight as I lay on the settee, cocooned by the leecloth as we are heeled over about twenty degrees to starboard.  We are close-hauled into 25 knots of wind, pounding into 8 foot seas.  Sometimes the boat will lift up on a wave and then crash down into the trough of another, sounding and feeling like we're doing a giant bellyflop.  We land unceremoniously with a bone-jarring THUD, so hard and loud that I wonder briefly if what we hit was actually water.  As we surge along, the boat shudders constantly as waves rumble beneath us.  There's the occasional ear-deafening WHAP as we collide with a wave and water spews over the sides. With the moans and creaks of the boat filling my ears, I recall a journal entry I had wrote in the earlier days of our trip:
"…people often say, "Oh, that boat has served me well…" In our case, the only reason the boat has "served" us well is because Matt replaced everything on it! It's not because the boat in and of itself is anything spectacular."
I think about those words and realize that I am right, in a way – Matt did practically replace everything on the boat, but the real truth is that our boat is seaworthy also by design.  That is one of the main reasons Matt wanted a Valiant – they have a reputation for being strong and sturdy.
And as I lay here on the settee, wind howling, waves crashing, boat pounding and pounding and pounding forward, I realize: my heart is not racing, my hands are not clenched in fists, my mind is not running wild with terrifying scenarios of us capsizing or drowning or getting dismasted.
I am not afraid. I am not even worried.
I still may not love the boat, but I have finally learned to trust it.*
*although I have long since learned to trust (and love!) the man who researched, found, purchased, repaired and sailed it.  🙂