It's New Years Day and I'm standing in the doorway of our near empty studio apartment looking at Matt.  I can feel Matt seething with annoyance as he precariously balances two overflowing cardboard boxes, a paper bag, a blanket, my backpack, and two sets of over-the-door hooks on our little hand cart.  "We didn't have bins for this stuff?" he asks, not hiding his impatience very well.  "No, I told you I need to get some more at Target," I respond, already mentally rehearsing my harsh retorts for when my tower of stash topples over in the elevator.  I hear him sigh loudly and he continues carefully pushing all my crap down the hall.  When I get down to the car, I can tell he is on the verge of losing it completely.  There are things everywhere – books tucked up under the rear window, plastic bags here and there, my newly washed petticoat stuffed behind the seat – nothing is in a bin.
The plan for moving out was to put everything, and I mean everything, into a plastic bin of some sort.  When we first moved into the studio, Matt even painstakingly designed a platform bed around a specific type of sturdy bin, so that we could store all our worldly possessions in *EIGHTEEN* bins that would live beneath the bed.  Needless to say, not everything can fit neatly into a bin (see the video below!).  The plan for boat organization was the same – everything should go in a bin.  So began the adventure of finding bins that would fit those oddly shaped spaces in the boat and would actually hold something useful.  I cannot yet say we have been entirely successful in that task!  (see video below!)
But – to Matt's credit – the bin idea is great in theory, if not in execution.  So far, we have managed to fit about 85% of everything we own into a storage shed approximately 6ft x 4ft x 8ft, solely because everything is in a bin.   (Ahem… my mom might challenge this assertion since at least half a room in her house is also a dedicated storage area for our non-binnable stuff, but we won't go into that… – THANKS MOM)  Anyway, according to Matt, when things are in a bin, life is easier, especially when you're moving.
The first time I experienced Matt's "bin system," we were going camping in Yosemite.  He had designated camping bins, each carefully organized.  Since it was only our fourth date, I didn't yet have my own bin.  After the disaster I caused in the car – two bags of clothes, books, pens, cameras, jackets, stuff and more stuff everywhere – and now knowing how much Matt abhors loose items, I'm honestly surprised Matt took me on a fifth date let alone married me.
Now, three years later, I am a huge fan of the bin system, and I can more than appreciate the benefits of using them, but, only three days into living on the boat, MY GOD CAN I PLEASE HAVE A DRAWER?!?!?!?!?!?!?!?!?!
Everything we deal with and I mean EVERYTHING is in a bin – the tools are in a bin, my toothbrush is in a bin, my clothes are in bins, my knitting is in a bin, books are in bins, toilet paper is in a bin, the butter is in a bin…  thank God our bed doesn't have a lid on it.
It seems a small thing, really, to push and pull a drawer instead of slap a lid on a box, but sometimes I think maybe there can be too much of a good thing – i.e. exact organization.  To make up for it, though, there are three drawers in the galley (basically the only drawers on the whole boat), and I have to admit I feel a huge sense of satisfaction and RELIEF when I open the top one and it looks like this: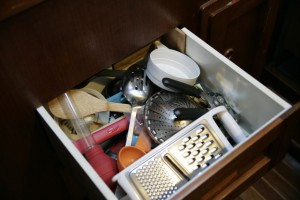 Sometimes I need a little chaos in my life.
LIFE, for sure, cannot fit into a bin.  (Not that Matt expects it to, my goodness people!! he is amazing and wonderful and organized, but not insane!!)  I'm just trying to lay the groundwork for the following videos because it's embarrassingly HILARIOUS how meticulously we are trying to adhere to this bin system and yet how intent life is at throwing it back in our face.  The below videos show (in order) our apartment the week before we moved out, and the boat as we were moving in…  A picture can say a thousand words, so I think these will more than explain the stress and utter craziness of these past two weeks.  Enjoy.
Happiest New Years to you and yours!  Wishing you lots of luck, love, laughter, and un-binnable adventures in this new decade!