* It was pretty stormy here the last couple of nights.  Well, as stormy as the bay area can get seeing as how there's never any lightning or thunder or crazy wicked thunderheads… so by "stormy" I mean windier than normal with a little bit of rain.  Anyway, it was our first time sleeping in the boat during any sort of real weather.  Wednesday morning I told Matt, "I didn't get much sleep, the boat was rocking a lot last night, it was kind of scary."  Then I just started to laugh out loud at myself – SCARY.  IN THE MARINA. Wow.  I have a lot to get used to.
* The other day Matt was on the phone with one of his good, long-time friends while I was online looking at granola recipes (see that story below).  Since it's nearly impossible to do anything on the boat without it being heard for 2 miles around, I couldn't help but overhear Matt's side of the conversation.  Clearly, they were talking about women.  Specifically, the friend's current interest.  I hear Matt say (oh, how I love him), "You know, the things that first attract us to women aren't the same things as those that keep us attracted to them over the long run.  Other things become important as well – kindness, is she a good person, things like that begin to matter a lot…"  A moment or two passes and then Matt says, "Entertainment value??  So, her entertainment value is low huh? Well, that's not good."  I just about fell out of my chair.        (Sorry *friend* but it was too funny…..)
* Seeing as how this boat venture is turning me into a Domestic Goddess, I've been trying to find ways to make stuff from scratch, on the cheap, so we can enjoy them on the boat now and as we're traveling.  On my list of things to learn to make: bread, granola, yogurt.  I attempted wheat sandwich bread earlier this week and it came out pretty darn good, I have to say.  I didn't take any pictures of the process, but I used this recipe and this was what the end result looked like after we ate half of it  🙂   (Granted, the process took me all.day.long. because I didn't read the entire recipe before I started (mid-afternoon) and so it was 1:30AM before I even put the bread in the oven!)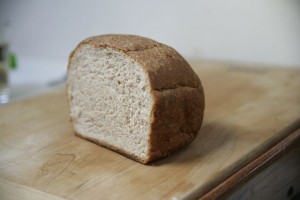 On Wednesday, I attempted a very basic granola recipe.  I took a quick look at the ingredients and then purchased the stuff needed, including oats.  Only…. I didn't get normal oats like those I've always used for oatmeal cookies, etc.  I got steel-cut oats. Now, let me preface the following by saying that I had no idea what steel-cut oats LOOKED like.  The reasons I purchased them were 1) I had never tried them before and 2) I had heard people say that even if you don't like instant/reg oatmeal, a lot of people really like the texture of steel-cut oats.  So, I thought – sweet, make granola with them and then use the leftovers to try as oatmeal.  Whenever I opened up the oats to put them in granola, I felt embarrassed for myself.  They look and feel just like tiny rocks.  I was a bit hesitant about putting them in the granola, but I came across one lone person on the internet who had used them before.  She mentioned that they stayed crunchy when used in yogurt or milk and didn't get soggy like other types of oats.  No soggy granola for me!! So, I tossed them in.  Matt took a close look at my pan of granola and said it looked like I was baking fancy bird-seed.  Aaaaaaannnnndddd when I put the granola in my yogurt the next morning, I can't say it tasted much better than that.  Although, my guess is that birds wouldn't even eat that sh*t.  (Again, I didn't take pictures of the process, but here's my burnt pan – yes, people, that is WAX paper that I will probably never get off the baking sheet – and the bag of nastiness that looks like it belongs in a pet store.)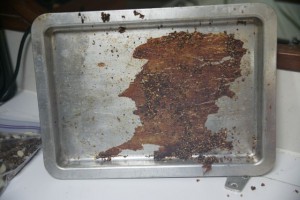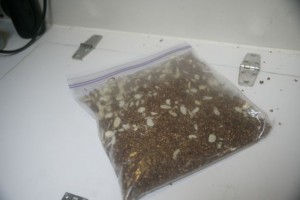 * Matt has finished fiberglassing the knees of the boat!!!!   This was what our boat experienced on Tuesday  (that's FIBERGLASS DUST everywhere and Matt is the boy in the bubble):
* Balsa core with your eggs anyone??