I still plan to add some more stuff about our spring break down in Tenacatita, but right now, getting ready for our Pacific Crossing is making me really really excited, so that's what I'm going to write about….
While in La Cruz, we met an awesome younger couple – Mike & Hyo – aboard IO.  They left for the South Pacific last Sunday evening (you can read about their experiences on their blog).  Another group of new friends left soon after that.  Since then, we've been tracking them all via SSB radio nets, when boats can "check in" with each other and get updates on weather and everyone's progress.  And, can I just say that everytime we hear one of them call in, Matt and I both get a little giddy.
"It's IO! There's Totem! Hey! It's Capaz! Ah! I heard Mulan! Where are they???"
We quickly open our google earth charts and add a new marker to show where they are today as opposed to a few days ago.  It's exciting to follow them across the Pacific.  Unfortunately, for all of you who care to know where WE will be, you won't have the option of listening to us on the SSB or checking our blogs for updates, you'll just have to cross your fingers, hope for the best, and patiently await our arrival in the Marquesas when we will flood our blog with updates from our passage.
One of the things you can be CERTAIN of, though, is that we are not going to starve.  Along with the $740 worth of food we bought at Costco back in the US, I just added to that stash several hundred dollars more of goods from another Costco run.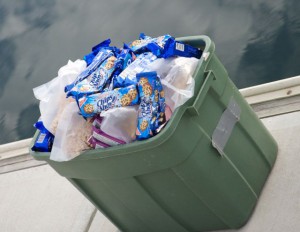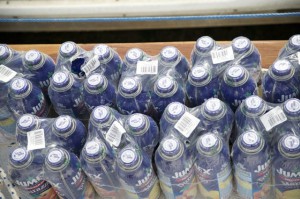 Tonight, I'm headed to a local bulk produce store to stock up on potatoes and onions and maybe some other stuff that should last us for a while.  Tomorrow, I head to Walmart for the things I couldn't get at Costco, and Saturday or Sunday, I'll head to Mega, a Mexican supermarket, for those things I can't get at Walmart.  Sunday night, I'll head to the bulk produce store again for the more sensitive fruits and veggies we'll go through in the first couple of weeks.
Provisioning for something like this is a huge and intimidating undertaking.  No matter how many books I read about storing and caring for produce, putting together make-ahead mixes, trying to keep variety in your diet, etc., it's still difficult to wrap my mind around buying food for two, then three (Jon joins us in June) people for 3-6 months.  Because, aside from fruits and vegetables and some snacky items, that's what I'm aiming for.
Our meals this summer will consist almost entirely of canned foods, pasta and rice. I know, YUM.  We're hoping that fresh sprouts (grown on the boat), fresh-baked bread, and lots of cold fruit juice (with or without rum and/or tequila) will keep things interesting.  We will, of course, indulge in some delicacies of the South Pacific, but those will be luxuries and not an everyday event.
Before moving onto the boat, I read a couple cruising books where the women kept detailed records of what they had, where it was, how much of it was left, and if they needed to get more.  I scoffed at their precise lists, declaring that I could never be so anal about our provisions.  Then we buy all this stuff and, five months later, I have no idea what we have or where it is.  Every time I cook, I have to open six cabinets and dig through three bins to figure out where I put that one can of whatever.  So, I began to understand the method to the madness.  Knowing that we will soon increase our provisions by ten-fold, I spent three hours last week going through almost all of our current provisions and made a list as to what we had, how much of it we had and where it was currently located.  Um, I'm a little embarrassed by how frequently I now refer to that list!  and I'm a little ashamed that I didn't do it earlier.  🙂
Another thing I've done is gone through all the cookbooks we have on the boat (which, sadly, really aren't that great), and created a list of things we can make with what we have.  One of the problems Matt and I ran into on our previous passage was a lack of creativity as to what to eat.  We would stare blankly into the cupboards asking each other, "what should we make? what do we eat?"  It was like we had never cooked before. We couldn't come up with anything to make beyond pasta or peanut butter and jelly sandwiches.  So, I started a list that we can refer to when our brains are tired.   For those soon-to-be or currently cruising, I'll include a few things just to help inspire you 🙂
My list includes:
– stirfry with rice & tofu
– pasta with red/alfredo sauce
– pasta salad
– potato salad
– curry chicken/turkey with rice
– turkey potpie
– lentil hummus
– quiche
– eggs with hollandaise sauce
– roast beef with bearnaise sauce and rice
– crepes
– tuna and pineapple sandwiches
– beef stroganoff
– sausage in wine sauce
– salmon loaf with lemon sauce
– tuna casserole
– blueberry/cherry pie
Of course, everything is out of a can or a box, but whatever!  On one hand, it's not exactly thrilling to think that we'll be eating canned foods for the next couple of months, but at the same time, it certainly encourages creativity.  I am sort of looking forward to the challenge of making something new and delicious out of the same ingredients we've been eating for weeks…
BUT, if anyone has good recipes for canned chicken, canned roast beef, canned turkey, canned beans, canned vegetables, canned tuna, canned salmon, canned chipotle pork, canned tomatoes, or canned fruits, I'd appreciate some additional inspiration as to what to do with them. I have the "usual" recipes: pastas, casseroles, sandwiches, etc., but if you have something different and yummy, please please please share!!!!
I hope, too, that we can catch some fish while we're out there to add some real excitement, but so far we haven't had any luck and, honestly, I'm still not entirely sure I'm ok with bludgeoning a fish to death and then bleeding it over the side of the boat before I cut its guts out.  Matt is totally opposed to dealing with fish until they're sushi-fied, so it's all up to me.  Fun. I'm trying to sike myself up for it, but we'll see.
But, all the provisioning aside, I'M GETTING REALLY REALLY REALLY REALLY EXCITED.  If all goes well, we plan to leave on Tuesday!!!!!!!!!!!!!!!!!!!!!!!!!!!!!!!!!!!!!!!!!!