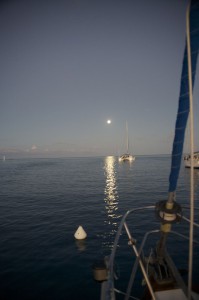 The moon shone round and bright in the evening sky and the water sparkled under the stars.
We pulled our dinghy up to the short wooden dock, noting that we were the first crew to arrive for dinner.  "Are those lobsters?!?!"  I asked hopefully, pointing at a table on the porch stacked with spider-like objects.  Seconds later, we were greeted warmly by our hosts, locals Valentine & Gaston, whom we had met briefly a few nights before.  They invited us to lounge on the porch enjoying our wine and fresh baked foccacia de poisson while we waited for the others.
The porch was a sturdy structure, housing some chairs, a table, an open bbq and, interestingly, three furry frigate chicks that Gaston & Valentine were raising.  The birds' beady eyes watched us suspiciously and if we got too close, they opened their long beaks and made hissing noises, and flared their fluffy white wings, already looking rather menacing though they were only a month old.  At our feet, a dozen hermit crabs roamed the floor, their prickly red legs clutching awkwardly at broken pieces of coral.  We made ourselves comfortable in the chairs and Matt uncorked the bottle of red wine we had brought from the boat.  We had barely poured our glasses when Gary & Tara of Pursuit IV showed up.  We all introduced ourselves and opened with the usual yachtie chit-chat, but I knew almost instantly that they were a fun couple….  Because one of the fastest ways to judge someone's sense of humor is to see how they react when there are humping dogs less than five feet away.  In this case, a large rottweiler-pit bull mix was attempting, rather unsuccessfully, to get it on with a little shitzue.
"Doesn't look like he's having a whole lotta luck,"  Matt said.
"Oh, I don't know – I thought he had the right idea with that ramp over there," added Gary.
"Yeah, but she doesn't really seem all that interested," said Tara, as we watched the shitzue nuzzle a hermit crab, seemingly oblivious to the rottweiler's advances.
That we could discuss the merits and methods of humping dogs just minutes after meeting Gary and Tara convinced me that they were our kind of people.
Gaston chased off the horny rottie just as Oscar and Graciella from Zenitude joined us.  Oscar was quite the character.  He reminded me of Sal Mineo (?) of the movies, with a tanned rugged, round face, exuding warmth and humor, and had such a thick spanish accent that every word he said made me want to laugh.  He was full of useful anecdotes, though, especially when it came to sealife.
"De moray eels, you know-ah dem? They got de big teeth and look-ah like-ah snake? Did you know that you can charm-ah dem like-ah snake too?  Yesss, when you dive, you see dem, and don't get too close because dey are territorial, but you see dem and dey poke-ah the head out of-ah de hole and you go-ah like dis…"  He then undulated his hands slowly in front of him as though he was wafting a fragrance towards his nose.  "You do it like-ah dis and you will see de head come out and de body of the moray eel will come out and he will follow you!  Just like-ah dat…"  he did the waving motion again.
He then goes on to tell us that we should be careful when searching for lobsters because of the "dramatic triangle."
" See, de dramateek tree-angle is de lobster, de octopus and de moray eel.  De octopus love-ah to eat de lobsters.  Dey tear off the shell and suck-ah out de insides.  De moray eel, he love-ah to eat the octopus. So, frequently, you-ah find-ah the lobster and de moray eel together.  The lobster, he like-ah da eel for protection from the octopus, and de moray eel, he-ah use-ah the lobster like-ah de bait!  So, when you grab-ah for the lobster, maybe you put-ah your hand near the moray eel hole and he will bite you, or maybe he will be bite you because he is pissed off that you are stealing his lobster!"
Eventually, our conversation made its way back to the usual cruising topics:
"Everyone always asks how we can afford to do this," says Tara.  "It drives me crazy! I mean, it's like asking how much money I make in a year, you just don't do it!"  She shakes her head.  She's 30 and Gary is 40.
Oscar leans forward, "Well, it's-ah because you are young! Everyone knows that us old people are retired!  You're young, you're not supposed to be able to afford it!"  He pauses and looks around at all of us younger cruisers. "But, is good.  Is good that you do it now. My son, he want-ah to go cruising and he take-ah his girlfriend and they have a boat, and they sail for a while.  But then, she turn thirty.  And you know…"  He looks pointedly at Matt and Gary. "You know, when a woman turn thirty, she-ah start-ah getting funny in de head."  The guys laugh and Tara and I look at each other with understanding.  "So she turn-ah thirty and want to get married.  So dey stop-ah de cruising and dey get married right away and then she get pregnant right away!  So," he sighs heavily, "Now we have a granddaughter."  Tara and I smile at Graciella.  "But!" Oscar continues with renewed enthusiasm, "Now I have-ah two problems!"  He thrusts out two fingers.  "One, now-ah I have to go back-ah to Australia because I have to see my granddaughter, and two…"  He pauses theatrically, " I'm married to a grandma!"
Our conversation easily wound its way from topic to topic as good, enjoyable conversations tend to do, and somehow we ended up talking about other types of traveling and Oscar once again pipes up.
"Right-ah after nine-eleven, I was-ah moving to the U.S. and I had to pick-ah up my large moving boxes from-ah Kennedy airport.  So, I-ah rented de van from … u-haul! and put de boxes in de van and den I had to go through de mid-town tunnel.  Can you imagine what-ah happened to me?!  Dey were stopping all of de vans and so dey stopp-ah me and here-uh I am – an Argentinian with an Australian passport and a New Jersey driver's license!  Haha!  Dey didn't know what-ah to do with me!"
We all laughed, more so at the expression on his face than at the story itself, and then Valentine called us in for dinner.
The table was in the center of the room, covered with a blue table cloth and decorated with long branches of pink, purple and white flowers.  Evenly spaced down the center there were bowls of rice and sauces, and trays stacked with halved spiny lobsters. Valentine served slices of breaded tuna first, slightly cooked, with warm raw centers.  We dipped these in a spicy red cocktail sauce (although Matt swears it was just A-1 mixed with ketchup).  Next, we passed around pieces of lightly breaded chicken accompanied by white rice and fresh-baked coconut bread.  Finally, we got to the lobster – sweet, buttery and delicious!  All this was followed by a large slice of fluffy white cake with a sugary, carameley topping drizzled over it.
Gary, Tara, Oscar, Graciella, Matt, Jon and I shared loud boisterous tales at one end of the table.  We were discussing couple-living in small places – like a boat – when Gary said, "Arguing is the worst.  You can't get away.  It's like, 'um, can you just go hang out at the bow for a while??'"   Tara added, "Yeah, it's hard when you fight."
"What do you mean?"  I said incredulously, with a touch of sarcasm.  "I cry,  Matt feels bad, and the problem is resolved!"   Laughter erupted around us and Oscar pointed at Matt.
"You!" he started, between laughs.  "You are in trouble!! She has a dirty mind! She is already tricking you! She has a dirty mind! You are in trouble my friend!"
Thankfully, Gary took over after that, relating his more hair-raising adventure of breaking free of a mooring buoy and getting washed up on coral the night before we arrived here.
Although I was yawning, the night still felt too young when Valentine kicked us out with an unceremonious, "Ok, dinner is over" as she stood up and started clearing plates.  Apparently, the Argentinians and the Brazilians were coming over at 4:00 AM to watch the World Cup game with Gaston, and Valentine would have to be up early, too.
Our fantastic homemade dinner felt a bit expensive at $30 per person, but the experience was priceless.  And, at the end of the night, we all unhitched our dinghies, made a few jokes about each other's outboard engines, and putt-putted away with smiles on our faces.