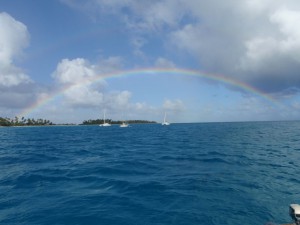 After spending a week in Northern Toau (Anse Amyot), the longest we've stayed in one spot since Nuku Hiva, we were ready to go.  Actually, we were ready to go by about day 5, but the weather (as previously noted) was not cooperating.  Finally, it cleared up enough that we could cut loose from the mooring ball and head for another atoll.  With little to no gas left in our dinghy and our outboard engine acting up (unrelated to the gas issue), we decided to head for Apataki, an atoll just north of Toau where we had heard about a haul-out center that may be able to service our outboard.  We had a quick, lovely sail to Apataki, and negotiated our way through the longest, narrowest pass we've seen yet.  The pass, less than 85 yards at its widest, snaked around some beaches and reefs, the edges of the village, and some sand bars before finally opening up into the lagoon.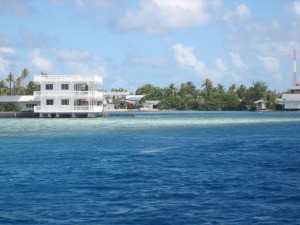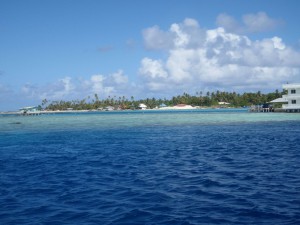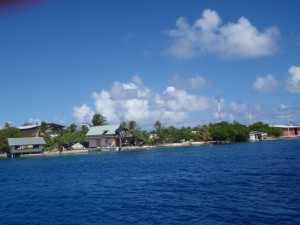 The haul-out center we were aiming for was at the southeastern end of the atoll, another ten miles away.  We motor-sailed across the lagoon, dodging squalls along the way, eager to get to this anchorage that was supposedly nicely protected from east/southeast winds, which is what we'd been pummeled with at Toau for the last week.  As we sailed, I noted that this southeastern edge of Apataki is quite pretty.  The land is thick with palm trees and other vegetation and further south of us, there are long stretches of sand bars on the lagoon side of the reef, making it seem as though the sand is the only thing between us and the sea.
As we looked for a good spot to anchor, I could tell the water would be clear and a lovely blue if the wind would just quit blowing and stirring it up!  Turns out, as we had been running from the east/southeastern winds at Toau, the system had been moving and the wind had shifted farther to the north.  So, as we dropped the hook in Apataki, instead of being protected, we again had wind right on the nose.
Despite being invited to a "happy hour" hosted by the locals who ran the haul-out center, we chose to spend the evening onboard.  I was moody and absolutely tired of the constant wind. Plus, we weren't thrilled about taking our unreliable dinghy out into a 2 foot wind chop and 20 knot winds just for the sake of a cold beer, of which we already had a dozen in the fridge.  The next day, however, the winds calmed a bit and there was a hint of sunshine, so we decided that, even if the outboard didn't work, we could always just swim the dingy ashore.
The local family here, Alfred and his wife Pauline, are extremely kind. Pauline speaks French and English and so it was easy to communicate with them both as she translated for Alfred when needed.  They are a busy family and hard working, running a pearl farm, harvesting copra, and maintaining a small boat yard where haul-outs and repairs can be done and cruisers can leave their yachts during cyclone season.  Their kids were visiting on school vacation and so their teenagers and their friends were out and about swimming, spearfishing, taking the boat out to the pearl farm…  It was the most activity we had seen in a while and made me feel both old and envious at their energy.  Let's just say that Matt and I have become experts in laziness!
We chatted with Pauline and Alfred, enjoying cold cokes (with ice!!) while they explained to us which fish in the lagoon had cigutera and how Alfred could tell.  He also told us that if we came back later in the day with our fishing line and a hook, he would show us how to rip a hermit crab from its shell and use it for bait so we could fish off the back of the boat.  Alfred also offered to show us which shellfish are good for eating, something that we hadn't even heard about yet.  We weren't quite ready for all that education, though, as we wanted to explore the atoll a little bit.  We placed an order for lunch, to be ready in about 2 hours, and went wandering down the shore.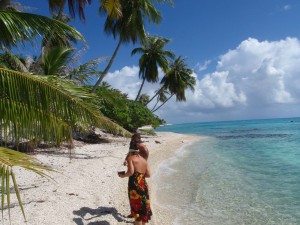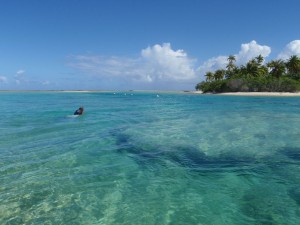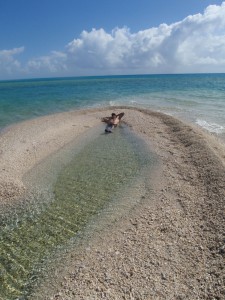 It just happened to be mine and Matt's 4-year anniversary of meeting, so we took a few cutesy pictures too 🙂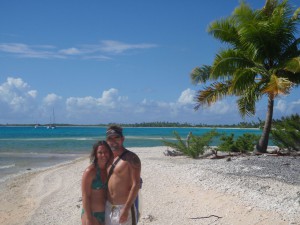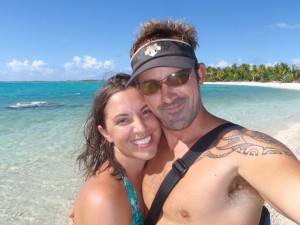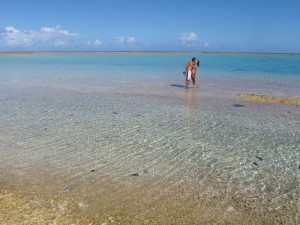 When we came back, lunch was almost ready – steak frites for me, chicken & mushrooms with rice for Matt, and a unicorn fish with rice for Jon.  We kicked off the meal with a rhum coco-lait cocktail – Alfred's "special" – which is exactly what it says:  rum with fresh coconut milk.  I followed this with another coke 🙂    (a very special THANK YOU to our good friend SCOTT CRANE and his beautiful wife for "hosting" our meal!! Cheers to you!)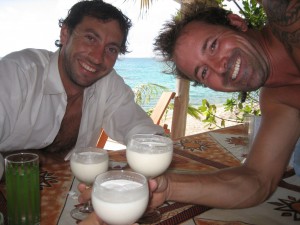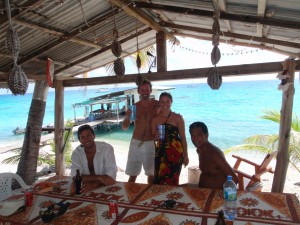 After our late lunch (it was already 4:00), we went back to the boat, saying that we would return later for happy hour and to learn all about the crab-fishing.  Instead, Jon got a headache and Matt and I were not feeling all that excited about staying out late, so Matt and I went back to land just to get gas for the dinghy and pay for everything while Jon went to bed at 5:30.  We told Alfred we would be back some other time to get the low-down on the local food.
The next day, we docked our dinghy at Alfred's just in time to be slammed with a nasty squall.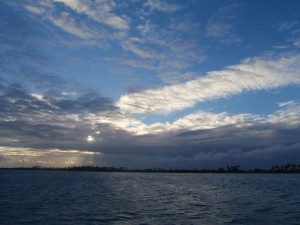 We watched as a thin twister of wind and water tossed another dinghy, this one tied onto the back of a boat, up in the air and turned it over, leaving it floating upside with the outboard engine completely submerged.  We were greeted at the dock by Alfred's mother who explained that the rest of the family was out fishing.  I told her that Alfred had promised to show us how to fish with crabs and asked her if she knew how to do it.  She nodded and agreed to show us.  Matt immediately went out and got a fairly large hermit crab and brought it back.  Alfred's mother (she never told us her name) took a hammer and whacked on the crab's shell a couple of times until it cracked.  She pushed the broken shell aside, pulled out the crab – who clearly knew his time was short – and, before I could even see what happened, she had ripped off the crab's carpace, legs and all, and was showing us how to insert the hook through the remaining parts.  All in all, it probably took her less than 15 seconds before the crab, what was left of it, was on the hook and ready to go.  It was awesome – she was totally nonchalant about tearing apart the crab, didn't use gloves or anything, and we were standing back slightly, warily eyeing the barely twitching little red body.
But, now armed with this knowledge, we set out to collect more hermit crabs.  We had brought a bin with a lid (of course – a bin for everything!), and Alfred's mother warned us to be careful when we opened it because the crabs would crawl out and try to hide in the boat.  Um, yeah, that's not going to happen.
Jon, then, became our resident fisherman, getting up early to decimate the poor crabs and catch fish.  The first morning, he quickly caught 2 fish!  The second morning, he only caught one because we had failed to eat all of the fish the night before and knew one would be more than enough for us.  But, FISH!!  We've caught fish!!   I think this is going to be the beginning of some really wonderful dinners… or at least dinners that don't come out of a can.   🙂